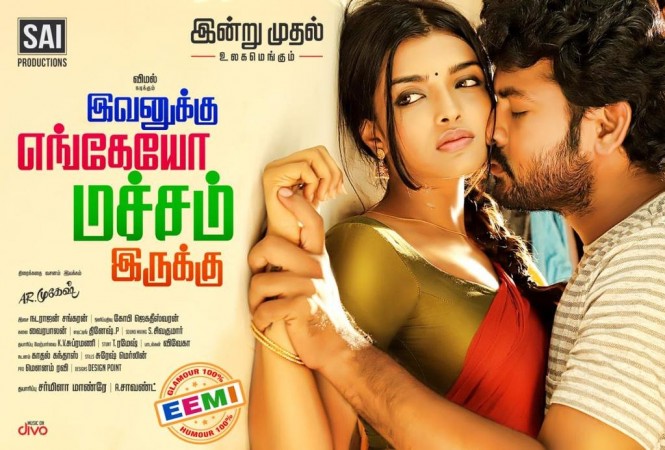 Adult comedy is slowing gaining popularity among the new-age Tamil audience. After the success of Iruttu Araiyil Murattu Kuththu and Pyaar Prema Kaadhal, here is one more film made in the same genre in the form of Ivanukku Engeyo Macham Irukku.
The latest movie has Vimal and Ashna Zaveri in the leads. Mia Leonne, Anand Raj, Singampuli, Mansoor Ali Khan, Poorna and others are in the cast. AR Mukesh-directed movie has Gopi Jagadeeshwaran's cinematography, Natarajan Shankaran' music, P Dinesh's editing, Vairabalan's art direction, T Ramesh's stunts and Kadhal Kandhas' cinematography.
Story:
It is a comedy of errors. What happens to the hero when caught between the cops and thieves is the crux of the story.
Hype:
The film has generated quite a buzz with its bold content. The double-meaning one-liners, Mia Leonne's intimate scenes and comic sequences have drawn the viewers' attention towards Ivanukku Engeyo Macham Irukku.
The movie is releasing when Rajinikanth's 2.0 is still dominating the screens. It has to be seen how the audience's respond to Ivanukku Engeyo Macham Irukku.
Here, we bring you the live audience review of Ivanukku Engeyo Macham Irukku:
Prashanth Rangaswamy: #Ivanukkuengayomachamirukku - Once a leading star, Vimal has been reduced to a comedy actor, sad for him. Anand Raj portion works , otherwise headache in the name of comedy.
Just Watch My Review: Worst fist half ....Comedy second half...
#IvanukkuEngeyoMachamIrukku
FF Cinema: #IvanukkuEngeyoMachamIrukku might look like adult movie but it's more like thriller movie.
#AshnaZaveri is show stopper .