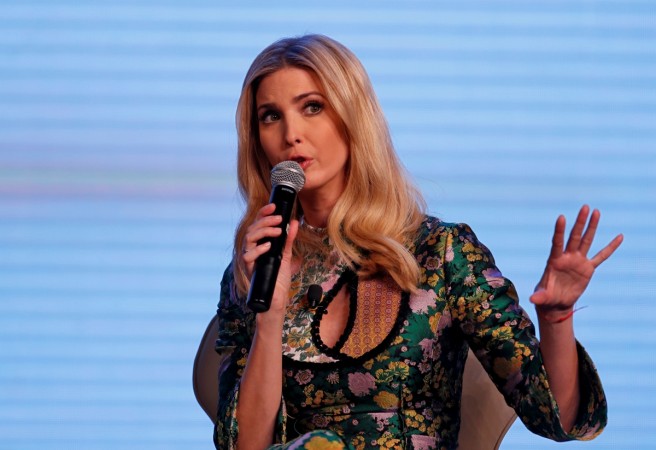 US President Donald Trump's daughter and advisor Ivanka Trump was in Hyderabad on November 28 and 29 as part of the Global Entrepreneurship Summit (GES), and while her speech on women entrepreneurs and the need to encourage and support them may have impressed quite a few, fashion-lovers would not really say that about her style.
We have always loved Ivanka's fashion choices and believe that she is one of the most classy and elegant women, with a great personal style be it casual or formal wear. But the attires that she sported during her India visit have pretty much dashed our hopes right from the time she landed in the black, pearl-embellished blazer.
Things got worse when she appeared in the tea-green dress, and just when we thought that Ivanka had redeemed herself with the stunning blue Tory Burch gown during her royal dinner at the Taj Falaknuma Palace, we were left dumbfounded by what she wore on Day 2 of the GES.
The blue Tory Burch ensemble with golden embellishments was a visual feast, as it not only was a perfect fit for the occasion but also worked wonders on Ivanka's slender figure. Additionally, her height of 5 feet 9 inches made the gown look even better. The 36-year-old kept her look classy, with her hair up in a simple bun and pearl drop earrings for jewellery.
But the graph again went downhill when she wore an unflattering and frumpy red lace dress and black mules that did not quite go with the dress.
The first daughter of the US also did not really make a statement when she visited the iconic Golconda Fort dressed in a long-sleeved, black and white high-low dress by Indonesian designer Biyan. However, we did love her blush flats and chic sunglasses.
After spending the day in Hyderabad, Ivanka then flew back home dressed in a white ankle-length flowy kurta-dress that had a touch of ethnic Indian design with intricate green and yellow embroidery. She once again paired the attire with the blush ballet flats, and while the demure ensemble did look good on her, it did not come across as something strikingly memorable.
Ivanka is someone who is always spotted looking prim and proper be it during her public appearances or when she spends time with her children Arabella, Joseph and Theodore. One look at her Instagram account and one can make out what a stylish and fashionable woman she is. Considering her style did not impress too many at the GES 2017, here are seven looks that we wish she had sported during her India trip.