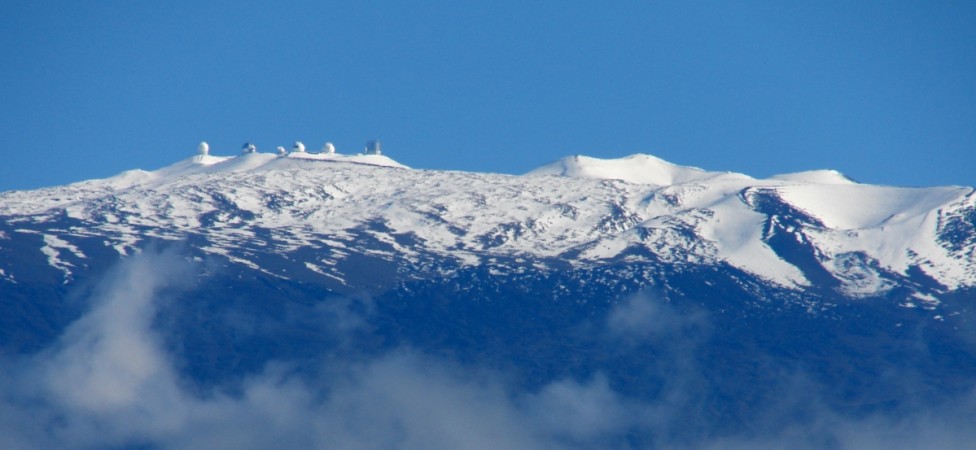 Hawaii's highest peak Mauna Kea is expected to get another foot of snow on Sunday apart from the two feet which fell since Thursday, according to National Weather Service. A winter storm warning was in place for the Mauna Loa, second highest peak in Hawaii, and Mauna Kea through Saturday evening.
"We're expecting another round on Sunday and Sunday night," said Matthew Foster, a staff meteorologist with the National Weather Service in Honolulu. Foster added that snow on the two mountains, which stood at 14,000 feet, was not uncommon. Mauna Kea, he said, means "white mountain" and the summit gets snow at least five to six times in winter.
The winter storm on Thursday dumped two feet snow on the two peaks and another one is expected on Sunday. The road to Mauna Kea is closed and skiers and snowboarders can't enjoy the snowfall yet due to fog and continued snowing.
The initial storm on Thursday slowed down on Saturday; however, Foster added that "some freezing drizzle is still possible."
The second snow storm was 400 miles of the island of Kauai and would reach the islands by Sunday.
"This one won't be quite as strong when it moves over the Big Island, so we're putting it as possibly 12 more inches of snow," he said. "The grounds are already saturated now, so it doesn't take much," Foster said.
"As long as we have deep enough clouds to support ice crystals, and when you have cold enough temperatures at the summit level, you can get snowfall," said Foster.
Both the summits are volcanoes, with Kea being the highest peak. Apart from the two summits, Haleakalā volcano on Maui also gets regular snowfall as it stands at 10,000 feet.