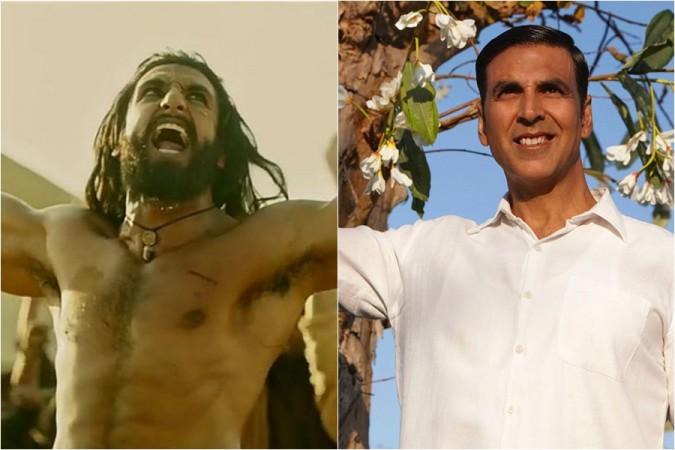 After seeing violent protests by members of the Rajput Karni Sena and also death threats against the lead actress, Sanjay Leela Bhansali's controversial film Padmaavat has finally got the release date. The much-awaited movie will now hit the theatres a day prior to Republic Day i.e. January 25.
It means that the period drama will now lock horns with Akshay Kumar's Padman which is also releasing on January 25. Padmaavat stars Deepika Padukone, Ranveer Singh and Shahid Kapoor in lead roles.
The makers of Padmaavat along with its lead actors - Deepika, Shahid and Ranveer, officially announced the release date of their period drama on Twitter.
The film was supposed to hit screens on December 1, 2017, but the release got stalled following protests. It was also speculated to release on February 9.
The release of Padmavati, whose title name was changed to Padmaavat as per the suggestion of Central Board of Film Certification (CBFC), became uncertain owing to the protests carried out by Rajput Karni Sena.
Now that Padmaavat and Padman are all set for a big clash at the box office, it remains to be seen how Bhansali's movie will compete with Akshay Kumar starrer since the makers of Padman have reportedly locked 3,000 plus screens across India for the release of their film. Also, there is no clarity on how many states will allow Padmaavat to release since many political leaders opposed its screening in their respective states.
While Akshay has a record of delivering hits whenever his films get released in Republic Day week, Padmaavat seems to have earned the public sympathy due to the troubles it faced. If this sympathy translates to footfalls at theatres, the film can fight out Padman.
However, its' a tough battle for Padmaavat at the box office considering Akshay Kumar's popularity and current track record of delivering back-to-back hits in the last couple of years.
On December 28, the Central Board of Film Certification (CBFC) had an examining committee meeting to review Padmavati and it decided to give the film a U/A certificate on condition that some modifications are made and the title likely changed to Padmavat. The certificate will be issued once the required and agreed-to modifications are made.
The CBFC green signal to Padmavati had apparently been given under following conditions:
1. Name of the film to be changed to Padmavat
2. Will get a U/A certification
3. Additional disclaimers will be added to the film
4. Will not glorify Sati
5. Popular song 'Ghoomar' will be amended
However, the members of the Rajput Karni Sena, who were unhappy with CBFC's verdict, announced that they will stage a nationwide protest to oppose the decision and demanded Padmavat's ban. They also threatened that this time their protest won't be a peaceful one.