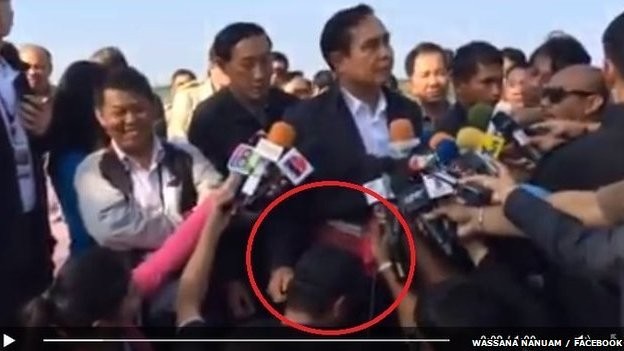 A bizarre gesture by Thailand's Prime Minister General Prayuth Chan-Ocha in a video, where he is seen patting a journalist, has sparked outrage online. The powerful military leader has been ruling the country since the recent coup.
The video, uploaded by journalist Wassana Nanuam on Wednesday, went viral immediately within the Thai diaspora. People soon started expressing their views on the unusual gesture by the PM.
Captured in the north-eastern province of Khon Kaen, the video shows the PM stroking the head of a journalist and gently tugging at his right ear as the latter knelt before him wearing a baseball cap. He was one of several journalists present in the scene who had crouched in order to allow the camera capture an unobstructed view of the leader.
The PM was apparently briefing the scribes on the arrest of five students who did a three-finger salute of resistance, an act inspired by The Hunger Games book and its Hollywood film trilogy, which was banned in Thailand ever since the recent coup.
See the video below:

At the brief press conference, the PM was asked whether he felt threatened by the protesters' act of defiance. He responded in jest saying he felt very safe in the presence of journalists. As he spoke, he stroked the head and tugged at the ears of one of them. The crowd of scribes could be heard laughing at his apparent sense of humour, but the incident was sneered at in the social network.
"It is obvious that the prime minister who came to power after a coup is bullying a journalist. Media organisations should not stay quiet," one person said on Facebook sharing the video.
Another comment on YouTube said: "It's like petting a dog at home. Very cute. I'm sure he's kind to all poor pets."
Another sarcastic comment said: "I think you should just sit on his head."
The YouTube video already received over 47,000 hits as on Friday evening.