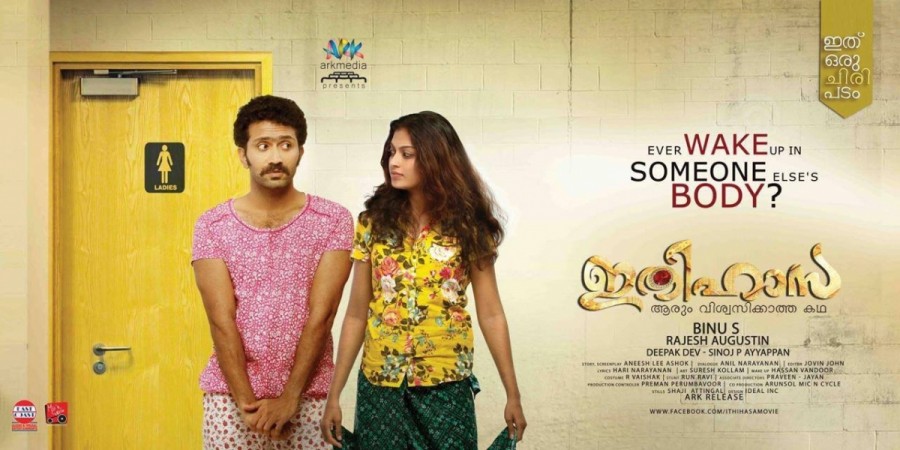 Malayalam film "Ithihasa" has opened in theatres to positive reviews.
Reports regarding the film suggest that it is running house full in most of the theatres. The film is directed by debutant Binu S and has Shine Tom Chacko, Anushree, Balu Varghese, Joy Mathew, Sunil Sugatha, Valsala Menon, Ambika Mohan, Swapna Menon, Divya Prabhu, Nobi, Binu Adimali and Binoy in key roles.
The script is penned by debutant Anish Ashok and the dialogues are written by Anil Narayanan. The cinematography is handled by Sinoj P Ayyapan and the music is composed by Deepak Dev. "Ithihasa" is produced by Rajesh Augustine under the banner of ARK Media.
The story of the film revolves around two cunning thieves Alvy and Vikku, played by Shine and Balu. They lead a fun loving, care free life without any aim in their life.
Janaki (Anushree), an IT professional from Palghat enters their life and things change upside down for them when they get a 1,000 years old ring. Soon, they realise that Alvy gets transposed to Janaki and vice versa.
Here are the reviews of "Ithihasa" by various reviewers
"The director Binu S wins over audience heart with an 'unexpected' story covered with golden dust of some fresh comedies and an untold fantasy. The screenplay by Aneesh Lee Ashok and dialogues by Anil Narayanan shows us the brilliance in scripting a film conveying an untold story. Its difficult to believe that the lead roles of Alvy and Vikku done by Shine Tom Chacko and Balu Vargheese is debutant's work as they robbed the minds of audience with their stunning performance. Janaki by Anusree Nair once again proved that she is much talented actress whose skill still remains to explore more Janaki by Anusree Nair once again proved that she is much talented actress whose skill still remains to explore more." – Muyals.com
"The script of the film had managed to fill in all elements like comedy and songs to entertain the audience. Both the script writer and the director have managed to bring out a film that can be watched without getting bored. The placement of the character played by Balu Varghese has been perfect as he lifts the film with his dialogues and wits. This will be Shine Tom Chacko's best performance after 'Annayum Rasoolum'. He had managed to perform in action sequences and the scenes where he becomes a female. The most important aspect of the film would be Anushree. He had excelled in each aspect of her role including stunts and dialogues."- Redcarpetonline
"Since the director is debutant, you may feel that some elements are missing. But he was able to make it so appealing because of how it was narrated. Overall director Binu has did a good job. The action scenes were also notable. Technical wise, camera work by cinematographer Sinoj P Ayyappan was great. As a debutant, he did an excellent work. Music by Deepak Dev was also good." – Ente City.com