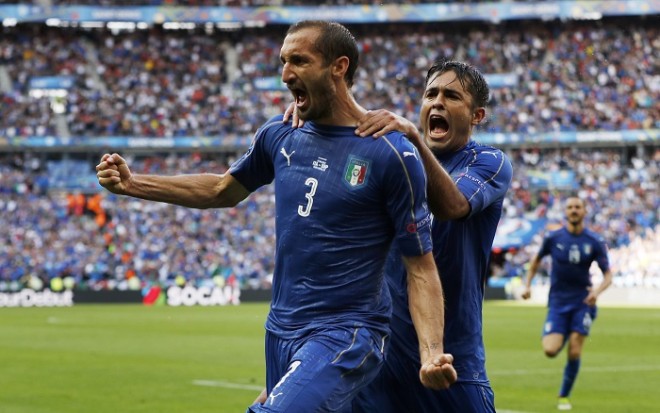 The final score was 2-0, but it could, and probably should have been about 4-0, with Italy utterly dominating Spain in every statistic apart from possession to ease their way into the quarterfinals of Euro 2016.
Italy's first goal came from the man who defended at the other end without a care in the world, while showing striker's instincts to pounce on a rebound and slot home. Giorgio Chiellini was brilliant at the back, scarcely giving breathing room to Alvaro Morata and co., while striking the telling blow in a match that Italy deserved to win, and then some. Graziano Pelle was then on hand to add the icing right at the end.
There was only one team in it in the first half, with Italy showing the tactical nous to completely nullify Spain's threat, while looking dangerous every single time they attacked. The final possession stats at halftime read Spain 52%, Italy 48%, which only went to show how well Italy had played.
Every time Spain had possession, there was an Italy player either to close the man in possession down or close out all options to pass forward, and with that the Spanish playmakers got frustrated, which in turn led to wasteful passing.
There was no such problem for Italy, who sprang forward with pace and verve, leaving the Spain backline in plenty of trouble and forcing David De Gea to show why he is considered one of the best goalkeepers in the world at the moment.
If not for De Gea, this Euro 2016 last 16 match would have been done by halftime, with the Manchester United goalkeeper brilliantly keeping out a Graziano Pelle header early in the game, diving to his left, while also showing his tremendous agility to spring up and stop Emanuele Giaccherini to from curling one into the top corner.
In between those two chances came the goal, with De Gea, partly at fault. Eder struck a freekick from 22 yards out towards the side that the Spain goalkeeper had covered, but De Gea's save only bounced back into the danger area. He somehow managed to toe poke the ball away from Giaccherini, who was coming in to slot home the rebound, but that toe poke fell kindly to Chiellini who easily placed the ball into the net on 33 minutes.
Italy started strong again in the second half, causing a couple of scares, before De Gea had to pull off another save to deny Eder. Off a counterattack, a wonderful flick from Pelle sent Eder through on goal, but the striker's shot could not find a way past De Gea, who had made himself big enough to prevent the ball going past him.
It took Spain, who grew into the game in terms of possession and control, until the final 20 minutes to finally find something resembling chances, with Andres Iniesta and Gerard Pique forcing saves, albeit fairly comfortable ones, off Gianluigi Buffon. The pace of substitute Lucas Vazquez and the aerial powers of Aritz Aduriz also gave Spain another option in attack.
The closest Spain came, though, was before those chances, with Morata heading straight at Buffon off a cross from Cesc Fabregas, when he really should have buried the ball into the net. Unfortunately, for the Spain man, he did not get the right contact with his header, even if it was a goal that Spain would have scarcely deserved.
Italy, like they quite often do, saw off the charge in the end, with Buffon showing his worth by keeping out Spain's-desperation-times-auxiliary-striker Pique, with a brilliant save to his right, before, seconds later, Pelle wrapped up the match, volleying home a deflected cross from substitute Matteo Darmian to end Spain's eight year European reign.