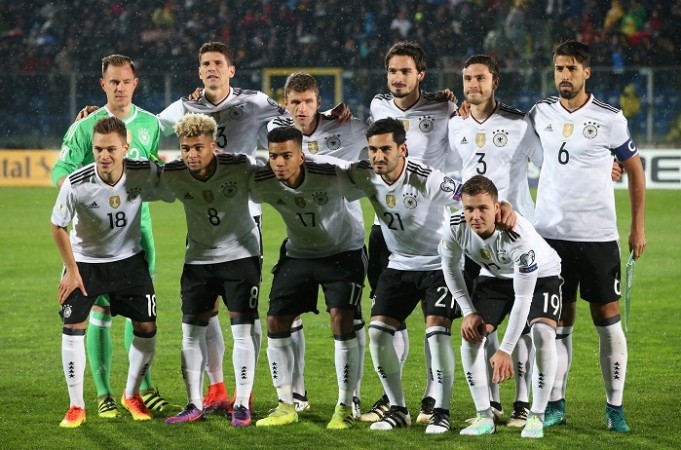 We are at that time of the football season where club competition comes to a standstill, for some time, with players battling it out for their respective home countries in the World Cup qualifiers. But not all matches played during the time are qualifying matches; some are just friendly matches as well.
Similarly, two giants of European football are are set for a massive friendly. Italy will host Germany at the San Sir on Tuesday. When teams of such nature play against one another, it is more than a friendly, as Italy and Germany will only have one thing on their mind – win.
May be, Italy will have something more than just a win, they will be plotting revenge after they were shown the exit doors by Germany in Euro 2016 after a painstaking penalty shootout. They are no strangers to one another, as they have met twice in the year already, losing both. They also lost to Germany in an international friendly in March.
So, does one need to tell the Italian players about the importance of this match? Italy coach Gian Piero Ventura believes clash against Germany always gives that extra motivation to succeed.
"They haven't spoken about revenge, but they have it inside them, it's clear enough. Even those who didn't play at the Euros. But this is certainly not a match where you need extra motivation. Even if it is a friendly, in reality, it is a match of top billing. Italy versus Germany is always Italy versus Germany. It gives its own motivation," AP quoted Ventura as saying.
Italy are set to miss their key defenders Andrea Barzagli and Gergino Chielleni for this encounter. Inter Milan striker Eder is also doubtful for the game. For Germany, star players such as Manuel Neuer, Toni Kross and also Julian Brandt will not be available. Despite some key players missing, the match is expected to be a classic European encounter.
Germany have always been a strong team, and their recent style of attractive play makes the game of football even more interesting. With silky players like Mesut Ozil, and solid defenders such as Matt Hummels, they have good leadership in all departments of the game. Though Germany have a good record of late against Italy, Hummels is aware that Italy can trouble them.
"They are always difficult matches. It's a very tough opponent, but we're not talking about a curse or a nemesis — just a squad that can trouble us, like other strong teams," Hummels said.
Where to watch live
Italy vs Germany will kick off 7:45 p.m. GMT (2:45 p.m. ET, 1:15 am IST). Live streaming and TV information can be found below.
India, UK: No telecast
USA: TV – ESPN3 USA. Live Streaming: Watch ESPN.
Italy: TV – Rai Uno
Germany: TV – ARD Das Erste