Italy is one of the most popular tourist destinations given its rich history, art and culture. In fact, the country sees more than 50 million tourists a year with tourism being one of its largest revenue-generators. Unfortunately, the series of recent earthquakes have destroyed many of its historical monuments. Prime Minister Matteo Renzi has stated that they will rebuild everything that Italy has lost. So what are tourist attractions that have been destroyed?
Norcia
The 12th-century Basilica of Saint Benedict was located in Norcia and had been built on the birthplace of the Catholic saint. On October 30, a 6.6 magnitude earthquake hit the country and the historical basilica was sadly reduced to rubble. It had just been inspected a week back by the ministry of culture for structural repairs. The Cathedral of St. Mary Argentea, known for its 15th century frescoes, was also destroyed on Sunday. The town's bell tower had deep cracks in it, reported the Italian media. The town was home to many ancient Roman city walls and these also collapsed on Sunday. Numerous other historical buildings are said to be severely damaged. There were several old churches that had crumbled in the earthquake earlier in August.
Amatrice
Amatrice is known for Cente Chiese (100 churches) and is known as one of the most beautiful towns in the country. On August 24, an earthquake hit Italy and the 13th century Civic Tower Amatrice was damaged, but still erect. However, with the earthquake on Sunday, the civic tower just collapsed. The Basilica of St Francis of Assissi had managed to survive the August earthquake but half the facade of the 15th century church of Sant'Agostino had collapsed. The ancient clock tower was standing erect post the August earthquake, but on Sunday it too crumbled partially. More than 900 pieces of art, including paintings, have been recovered from the rubble at Amatrice as of October 21 and now need to be restored.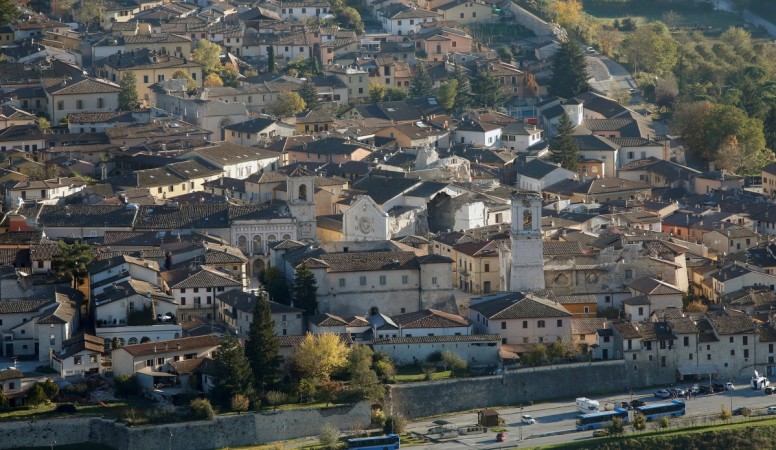 L'Aquila
Most of the town was destroyed due to the earthquakes in August this year and in 2009. The L'Aquila Cathedral, which is the main church dedicated to Saint Maximus of Aveia (San Massimo), saw parts of its transept collapse because of the earthquakes. Other than sightseeing, the historical town is popular for skiing in the winter.
Rome
Even though Rome was 150 kms away from the epicentre of Sunday's earthquake, some historical buildings were damaged. Cracks had formed at the basilica of St. Paul Outside the Walls built in the 4th century. It has been shut down for inspection as cracks appeared and some molding collapsed. The cupola of Sant'Ivo alla Sapienza church in the city also was damaged with cracks appearing. Francesco Borromini, a renowned architect of 17th century Italy, had built this baroque church.
List of Italy's earthquakes since 1990:

October 2016 - Norcia; magnitude 6.6 - no deaths have been reported so far

August 2016 - Norcia; 6.5 magnitude - around 300 deaths reported

November 1980 - Campania; magnitude 6.9 - nearly 5,000 killed

July 1930 - Irpinia; magnitude 6.6 - around 1,400 killed

January 1915 - L'Aquila; magnitude 6.7 - over 30,000 killed

December 1908 - Strait of Messina; magnitude 7.1 - nearly 200,000 killed by earthquake and tsunami

September 1905 - Calabria; magnitude 7.2 - around 2,500 killed by tsunami