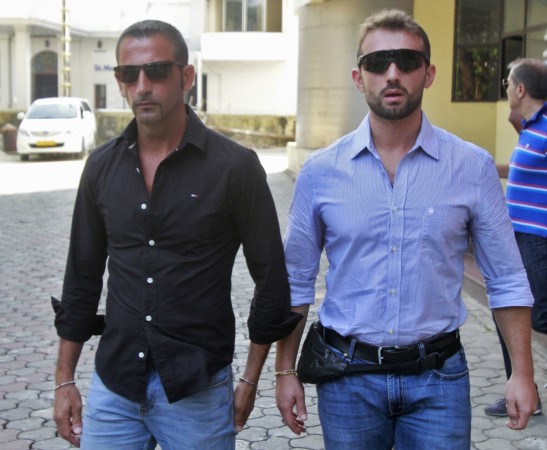 On Friday, the Supreme Court set Italian marine Massimiliano Latorre, who is accused of murder, free to return to his home in Italy for four months because of health issues.
But the BJP government has strangely chosen not to oppose this decision this time. The contrast is jarring especially since they had kicked up a major storm lambasting the Congress government and questionning Sonia Gandhi's background and intentions when the previous government had sent the marines home during their tenure.
Last year, India was embroiled in a diplomatic row with the Italian government, almost leading to a breach of the Vienna Convention when the Indian court ordered Italian diplomats not to leave India in response to Italy's refusal to return four murder-accused marines for trial in India.
That time, the marines were permitted to return to Italy because India wanted to respect their right to vote during their elections. But after getting there, Italy simply refused to send them back.
The then Prime Minister Manmohan Singh called Italy's move "unacceptable". But it wasn't until the Supreme Court ordered the ambassador not to move out of India that the Centre appeared to be firm with Rome.
The issue quickly took a patriotic turn with Gujarat Chief Minister Narendra Modi, who is now the Indian PM, blaming the then government for allowing the marines to go home while bashing the Congress party and slamming Sonia Gandhi, (Italian by birth) saying she wasn't patriotic enough.
"Italian marines mercilessly killed our fishermen. If Madam is so 'patriotic' can she tell us in which jail are the marines lodged?" Modi had said in a tweet.
However, no one is questioning the seemingly obvious 'hypocrisy' by Modi's government this time around when it claimed that it wouldn't stand in the way of the marines if the court orders them to go home.
"We will not oppose the bail plea of the Italian marine. If the marine wants to go home and if the court allows, he can," external affairs minister Sushma Swaraj said, as Scroll.in noted.