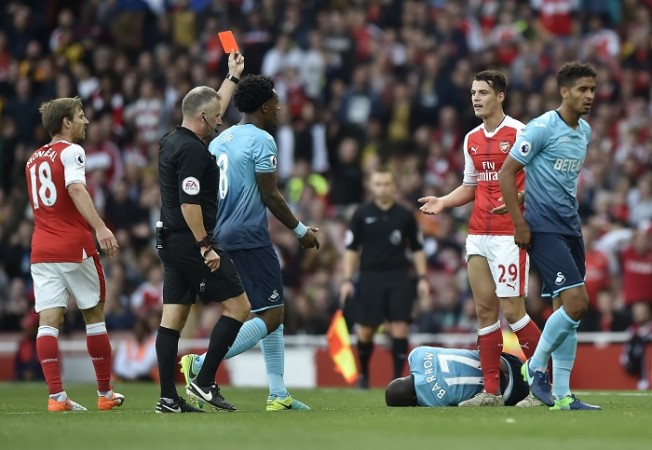 Arsene Wenger has confirmed Arsenal will not appeal the red card received by Granit Xhaka during their 3-2 win over Swansea City in the Premier League on Saturday. Xhaka was shown a disputable straight red by the referee Jon Moss for tripping up Modou Barrow with 20 minutes remaining in the game.
Wenger was in a relieved and happy mood after Arsenal's nervy win, a match that they should have really won by a big margin and gone into cruise mode in the second half. However, owing to their fondness for making things difficult for themselves, particularly against this opposition, the match ended up being a lot closer than it should have been, with Xhaka's red card only piling the pressure on the team in the final moments.
Asked if Arsenal will appeal the red card, Wenger said: "No," before adding, "It looked harsh to me. But it was a deliberate foul. It looked a dark yellow – and the referee went for a bright red."
Wenger is confident that Xhaka will learn from his mistake. "I think intelligence means you don't make the same mistake twice, and I hope he learns from that," the manager said.
Xhaka came to Arsenal from Borussia Monchengladbach with a bit of a reputation, having seen plenty of red cards in his career already. While Arsenal have been crying out for someone in midfield with a bit of a mean streak, Wenger does not think Xhaka has a discipline issue. And going by the red card he received against Swansea, 99 times out of a 100, that would have been a yellow and the commentator would have been heard saying "that is a smart foul there, he has taken one for the team."
"Before, in Germany, he had some [red cards], but I don't think he's a dirty player at all," Wenger added. "Sometimes there have been some clumsy tackles, because he's not a natural defender, he's a guy who likes to play forward.
"I will speak to him. I think Barrow made a lot of it as well, because he could go on. But the referee saw a bad tackle and you have to respect that. It is what it is, and he has to learn from it."