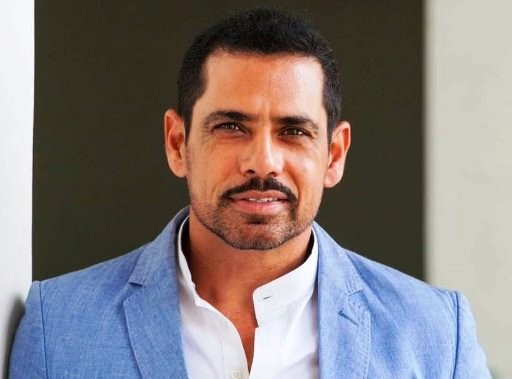 A tax department summons to Rahul Gandhi's brother-in-law for alleged irregularities in a land deal has pushed the main opposition Congress party on to the back-foot.
The ruling Bharatiya Janata Party (BJP) has gone on the offensive alleging that Robert Vadra had put pressure on Sonia Gandhi and Rahul to get an earlier tax department order rescinded to favour his business partner.
BJP spokesperson Sambit Patra said on Friday that the cancellation of the order benefited a company that had assisted an entity for buying from Vadra a piece of land in Rajasthan state's Bikaner.
Calling Vadra the "tainted son in law" of Sonia Gandhi, Patra said the intervention forced the tax department to rule in favour of Bhushan Power and Steel Limited (BPSL), which had given an unsecured loan to Allegeny Finlease that bought the land from Vadra's Skylight Hospitality in 2012. Vadra's company had allegedly sold the land it bought for Rs70 lakh to Allegeny for Rs5.64 crore.
The income tax department then put BSPL on notice over alleged anomalies in its returns from 2004-2005 to 2011-12, and asked it to pay Rs500 crore, Patra claimed. "BSPL wrote to the Settlement Commission of the Income Tax department appealing against the order." When the commission refused to intervene, put pressure on it and got the order rescinded, the BJP alleged, saying the whole dealings smacked of corruption.
Fraudulent deal
An ED official said Vadra was summoned on November 20. "But he did not appear and instead sent his legal representative with documents. We have told him that we want to examine him personally and so he must appear in person," the Indian Express quoted the official as saying.
The ED is probing the Bikaner land deal based on the FIRs filed by Rajasthan police in 2015. Several companies, directly or indirectly associated with Vadra, are alleged to have been involved in these fraudulent deals. Vadra, however, was never named in any ED case as an accused and would now be questioned for the first time in the case.
"He would be questioned on his association with various companies involved in the scam. As far as the case of Bhushan Power and Steel is concerned, our investigation is primarily focussing on diversion of loans. The company had taken Rs20,000 crore loan from a consortium of public sector banks. It diverted over Rs5 crore of this as a loan to Vadra's company," the official said.
The Congress party has sought to make corruption its main weapon to attack the BJP citing the Rafale deal. But the BJP's counter-attack will present a difficult situation for it.