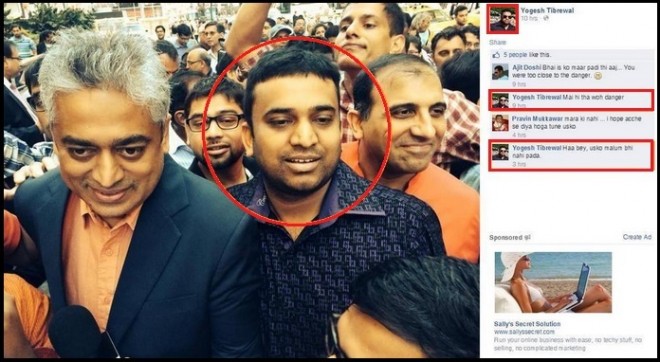 Yogesh Tibrewal, an Indian national who reportedly works for IT major Deloitte in the US, bragged on his Facebook page that he was the one who hit journalist Rajdeep Sardesai.
The youth put up the post just hours after senior journalist Sardesai found himself entangled in a scuffle with a group of Narendra Modi supporters outside the Madison Square Garden on Sunday, ahead of the Indian Prime Minister's speech.
The video of the incident has since gone viral.
As per multiple reports, a mob of Modi supporters were irked by Sardesai, after he took up "touchy issues" about the Indian PM, while interviewing several members of the Indian community in the run-up to Modi's speech.
And it has now come out that software professional Tibrewal might have been the first to 'assault' the journalist.
Tibrewal bragged about the incident on Facebook and also posted a picture of him standing right behind Sardesai.
In his post, translated from Hindi, Tibrewal stated that he was the one who hit Sardesai. He told his Facebook 'friends' that he was the "danger" standing right next to Sardesai, who did not even get to know what hit him.
Several Facebook and Twitter users critised the youth severally for his actions. And following the outrage on social media, Tibrewal deleted his Facebook page and his Twitter handle @yogeshtrewal.
Many social media users have expressed their anger and disappointment at the incident.
Rajdeep said he was hit when he was on Cam. Yogesh Tibrewal, in FB, proves him right by boasting of hitting him pic.twitter.com/3s6N0U7xst

— Joy (@Joydas) September 29, 2014
Since the revelation, Yogesh Tibrewal has become a Twitter trend of sorts, with many calling for his arrest, while some want Deloitte to terminate him for assaulting Sardesai.
Dear friends plz tag @NYPDMTS with this url https://t.co/XvsxkoMJut This man claimes to slap @sardesairajdeep last night at MSG. Plz RT. — JAI_HIND (@Sunit_B) September 29, 2014
The crowd at Madison Square Garden was reportedly angry at Sardesai's tweet, which suggested that Modi might have been showing favouritism to a particular industrial group.
"Guess who is the high profile Indian staying in the hotel where Indian PM is and attending all events?" Sardesai tweeted on Saturday, following it up a day later with: "Ans to yday question: Gautam Adani is the other VIP guest at Hotel New York Palace. Many of you got it right!"
In the Madison Square Garden incident, the crowd also reportedly hurled abuses at Sardesai while chanting: "Rajdeep Sardesai Murdabad."
Several videos of the incident were posted online but most of them show only a part of the incident. Here is one that shows Sardesai arguing with Modi supporters.
Here is another video in which Sardesai claims he was slapped at Madison Square Garden.