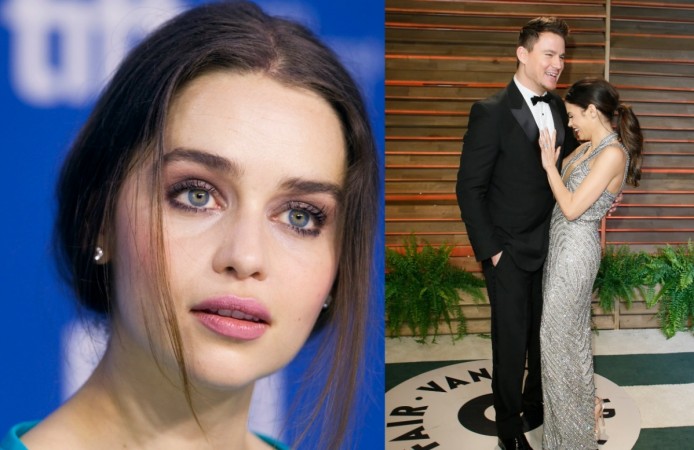 Emilia Clarke, who plays the Khaleesi on "Game of Thrones", had recently expressed her desire to engage in anything sexual with Channing Tatum and his wife Jenna Dewan Tatum. Now, the "GI Joe" star himself has addressed it and said that he would have liked it, but no, it has not happened yet. Channing made the revelation during the Howard Stern Show.
"Oh c'mon what guy in their right mind... but yeah look I would put on some loincloths and some swords or whatever to make it happen. I'll find a dragon if you guys really want me to, I'll figure it out," he told Stern
However, he did clarify that if his wife were to agree to a threesome, it would have to be with the Khaleesi. Clarke too, during her confession, had mentioned that she proposed the threesome after the Hollywood power-couple revealed that they call each other "my sun and stars" and "moon of my life".
Khaleesi Totally over Khal Drogo; Emilia Clarke Proposes Threesome to Channing, Jenna Tatum
On being asked what his wife Jenna's reaction was to the proposal, "Magic Mike" said that his wife has now become a pro at dealing with women who propose sex to him: "Jenna's a pro," Channing added. "She's just like, 'Oh yeah, let's do it!' And then it never happens".
In the tell-all interview, Channing also spoke about how much he hated "G.I. Joe: The Rise Of Cobra", a movie that went on to give him world-wide popularity. "Look, I'll be honest. I f***ing hate that movie. I hate that movie," he revealed.
He will next be seen in "Mike XXL" and has also been cast as the Marvel superhero "Gambit" in the upcoming "X-Men" based stand-alone film set for release on 7 October, 2016.
With a busy acting career, the "sexy man" tag and the Mother of Dragons expressing her desire to be with him sexually, looks like Channing Tatum is truly living the American dream.