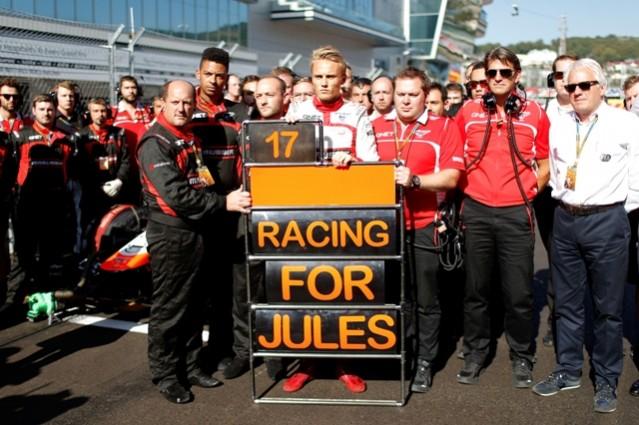 What happened to French Formula 1 driver Jules Bianchi last year at the Japanese Grand Prix can only be described as a promising career cut short by tragedy.
More than motorsports fans around the world, it is the 25-year-old's father who has to go through the immense pain of seeing his son lie unconscious on the hospital bed in his home city of Nice. It has been nine months now, since that tragic day.
At times, Bianchi Sr also felt that it would have been better if his son had died on the track on that fateful day, than to face the harsh reality of seeing Jules' passion die down in a hospital bed.
"You sometimes feel like you are going mad. For me it is more terrible than if he had died in the accident because we have no power to help him more," Philippe Bianchi told radio station France Info.
"Generally progress must be made in the first six months. It has been nine months and Jules has not woken up and there has been no significant progress."
A flashback to that fateful day at the Suzuka Circuit on 5 October when a young F1 driver collided with a recovery tractor crane, is hard for any sports fans to take.
On lap 43 of the 2014 Japanese Grand Prix, under intermittent heavy rainfall caused by the approaching Typhoon Phanfone, Marussia's Bianchi lost control of his car and veered right towards the run-off area on the outside of the Dunlop Curve to suffer the unfortunate crash.
The accident – one of the most fatal in the history of motorsports -- caused the race to be red flagged and ended nine laps earlier than the 53-lap full race distance. The International Automobile Federation (FIA) said in a statement that Bianchi was unconscious following a severe head injury as he was taken to a local hospital.
He was later shifted to a hospital in France.
"It is hard to get up in the morning when you are not sure if your son will live and when every day is like that. Time passes and I am less optimistic than I was two or three months after the accident, when we could hope for better progress," Bianchi Sr continued.
It's hard for Jules to regain consciousness even after so many months, and his father goes on to say that even if his son regains consciousness one day, that will be the beginning of a new pain. "You have a son who lives with passion, who travels around all the countries of the world, and overnight he ends up in a hospital bed in between life and death," he said.
"If he had a severe handicap, we are convinced that is not what Jules would want. We talked about it. He discussed with us that, if one day he had an accident like that of Michael Schumacher, that even if his only handicap was not being able to drive, he would have a lot of difficulty living because it was his life."
Meanwhile, Schumacher spent more than five months in an induced coma after suffering severe head injuries in a skiing accident in December 2013. Even though the seven-times world champion is now out of coma, he is yet to fully recover.