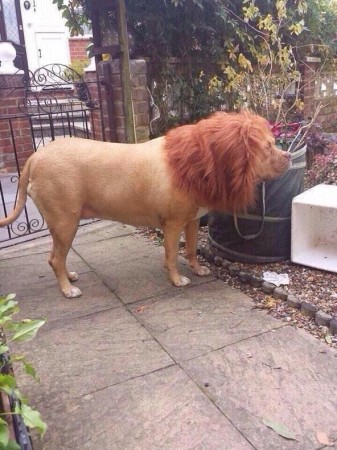 Owner played smart to ward off any intruder from his house by making his pet dog wear a lion mane, which makes it look like the king of the jungle.
He posted two pictures of his pet wearing the wig on Twitter that makes the dog resemble a lion at first glance.
The photo is actually of a pet dog, which is made to wear a lion's mane in order to scare burglars, according to Mail Online.
One image shows the lion-dog standing at the courtyard and the second one has the confused pet sitting on a bed.
The pictures were posted with a caption, "Ordered a lion off eBay & they sent me this," via user @cuteoverloads.
Well this is not the first time that pets are being given some other animal's look. The Mail Online reports that last year in August a Chinese zoo was mocked online to disguise a hairy Tibetan mastiff as a lion.
A few weeks ago, the viral video of a 'Spider-Dog' also proved that owners can go to any creative level to groom their pets to look unique, wild and weird.
ordered a lion off eBay & they sent me this pic.twitter.com/2HTmYLzAJp

— Cute Overloads (@CuteOverloads) September 26, 2014
Watch the video of the lion-dog below: