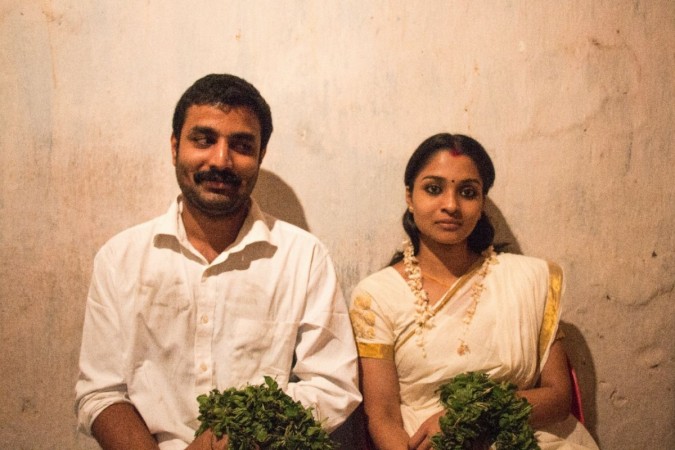 "It happened all of a sudden," Malayalam actor Deepak Parambol took to his Facebook page on Tuesday, September 12, to share a marriage photo with actress Vinitha Koshy of Aanandam-fame.
Most of the netizens seem to be shocked on knowing about the duo's unexpected 'wedding news' and many have even congratulated the 'newly married couple'.
Also check: Vinitha Koshy's hit romantic Tamil music video Mounam Sollum Varthaigal
But before you wish the couple, here is the reality behind the photo that has gone viral on social media.
The photo is taken from the set of Deepak and Vinitha's upcoming movie Ottamuri Velicham (Light in the Room) and interestingly, it resembles the popular movie still of Sreenivasan giving a slide glance to Parvathy from superhit Malayalam movie Vadakkunokkiyanthram.
In the upcoming Malayalam movie, Deepak will be seen as Chandran, while Vinitha, who rose to fame with her dubsmash videos and performances in the films Aanandam and Aby, plays an under privileged woman Sudha.
Read More: Aanandam actors Vishak Nair, Vinitha Koshy, Anarkali Marikar bag new projects
What to expect from Ottamuri Velicham?
Director Rahul Riji's Ottamuri Velicham is set against the backdrop of a beautiful hilltop village surrounded by dense forest and a decaying tea plantation. After her marriage with Chandran, Sudha reaches this village and stays in a confined single room house with her husband's brother and aging mother. The room has a strange light without a switch that changes its colors often.
Chandran calls the light his invention of a lifetime, however, it begins to haunt Sudha as it deprives her privacy. How Sudha fights for her survival and seeks revenge against Chandran forms the gist of the emotional thriller that is said to be an honest attempt to shed light on the issue of marital rape in India.
Ottamuri Velicham, produced under the banner First Print Studios, also has Rajesh Sharma, Pouly Valsan and Renjit Shekar in significant roles. Cinematographer Luke Jose and editor Appu N Bhattathiri are also part of the small budget entertainer.
Here's the viral Facebook post of Deepak: