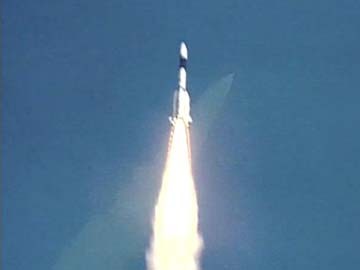 The cryogenic stage-based Geo Synchronous Launch Vehicle (GSLV) D-5, carrying a communication satellite, lifted off successfully from Sriharikota, the launch base of Indian Space Research Organisation (ISRO) at 4:18 pm on Sunday.
The event was described as "majestic" and "textbook launch" by scientists monitoring the launch from the Mission Control Centre (MCC) at Sriharikota. The health of the vehicle was mentioned as normal during the flight.
The success has carved a milestone in achieving cryogenic technology in India. ISRO had failed twice before - in April 2010 and December 2010 - and had aborted the launch in August 2013. The third attempt was declared a success by K Radhakrishnan, Chairman of ISRO, after a few minutes of the launch and separation of satellite from the rocket.
"We are happy that team ISRO has done it. It is an important day for science and technology, space technology of the country. This is the effort of 20 years," said Radhakrishnan, addressing the media later.
Check out the launch video here:
The launch vehicle is assembled with three stages: solid, liquid and cryogenic. The first and second stages are configured along the lines of earlier GSLV missions but the third stage is crucial.
The scientists, including Radhakrishnan, were intently watching the lift-off from the MCC. The cryogenic stage was successfully initiated at 400 seconds.
The rocket, 49.13 metres tall and weighing in about 414.75 tonnes, carried a 1,982 kilograms GSAT-14 communication satellite which has applications in tele-education and tele-medicine. It will also augment the in-orbit capacity of extended C- and Ku-band transponders and provides platform for new experiments.
The cryogenic stage-based GSLV-D5 opens a lucrative market for India to launch heavy and medium-sized satellites to space. India has mainly been launching its own satellites, whereas NASA and European Space Agency launch satellites from all over the world.
ISRO has developed the cryogenic technology over last 20 years. India had earlier imported cryogenic engines from Russia to launch its heavier satellites. However, Russia's refusal to further export more number of cryogenic engines to India forced ISRO to develop a technology of its own.