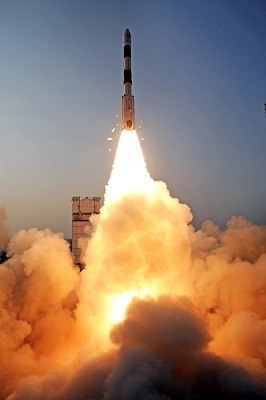 Indian Space Research Organization (ISRO) on Friday, 4 April 2014 successfully launched its Polar Satellite Launch Vehicle (PSLV) C24 from Satish Dhawan Space Centre, Sriharikota. This was the 25th successful launch mission of PSLV.
The PSLV carried IRNSS-1B satellite weighing 1,432 kg and positioned in the geostationary orbit. IRNSS-1B is the second among the seven satellites as projected by the Indian Regional Navigation Satellite System (IRNSS).
The ₹1,420 crore IRNSS-1B is expected to place seven satellites in the orbit by 2015-16. The satellites of IRNSS will be used for several services such as disaster management, terrestrial aerial and marine navigation, navigation aid for hikers and travellers, vehicle tracking and fleet management, visual and voice navigation for drivers.
The system has some similarity with Glonass of Russia, global positioning system of the US, China's Beidou, Galileo of Europe or the Japanese Quasi Zenith Satellite System.
IRNSS-1B is designed to provide two types of services: Standard Positioning Services (SPS), which is provided to all users and Restricted Services (RS), limited only to authorized users in India as well as surrounding regions that extend up to 1,500 km from its boundary, according to an ISRO press release. The expected life span of the satellite is about 10 years.
"The launch was successful and it was injected very precisely. I thank the entire ISRO team that made this major milestone for the country." Business Standard quoted K Radhakrishnan, ISRO chairman.
"For the farthest distance, we targeted 20,650 kms plus or minus 20,675 kms, and what we got is 20,630 kms, just 20 kms less. As far as the inclination of the orbit, we are on the dot." Indian Express quoted Radhakrishnan as saying.
In July 2013, PSLV-C22 launched IRNSS-1A, which is operating satisfactorily from its designated geostationary orbital position.
IRNSS-1C and IRNSS-1D, two more satellites of the system are intended to be launched by the second half of 2014.
Photo Credit: ISRO
(Edited by Anu James)