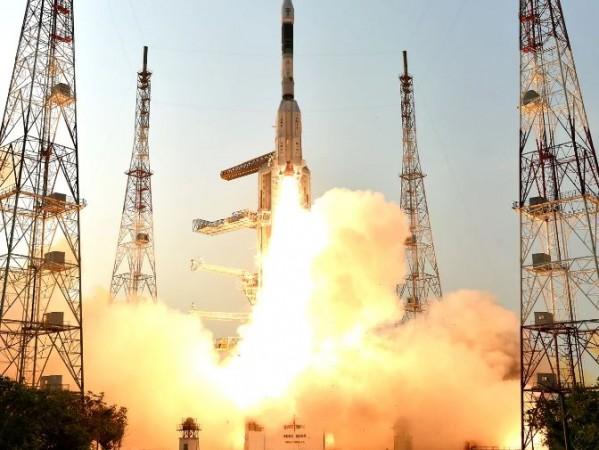 The Indian Space Research Organization has said that it has lost contact with communication satellite GSAT-6A. The satellite was launched Thursday, March 29, at 4.56 pm from Satish Dhawan Space Centre in Sriharikota.
The GSAT-6A is known to be India's most powerful communication satellite, and ISRO has said that it is now trying to re-establish contact. In a statement on its website, ISRO said that the second orbit raising operation was successful, but it lost touch with the satellite thereafter.
"The second orbit raising operation of GSAT-6A satellite has been successfully carried out by LAM Engine firing for about 53 minutes on March 31, 2018 in the morning. After a successful long duration firings, when the satellite was on course to normal operating configuration for the third and final firing, scheduled for April 1, 2018, communication from the satellite was lost. Efforts are underway to establish the link with the satellite," ISRO said.
Sources told The Times of India that there was a power failure in the rocket's system, due to which ISRO lost contact with the satellite.
After hitting headlines Thursday for the launch, ISRO remained mum Friday and Saturday. The organization's chairman K Sivan was said to have held numerous meetings with scientists and experts working on GSAT-6A but no other details were available at the time.
GSLV-F08 / GSAT-6A Mission Fact File


The satellite was launched by a Geosynchronous Satellite Launch Vehicle (GSLV).
The GSLV rocker weighs 415.6 tonnes and is 49.1 meters tall.
The GSAT-6A satellite, which costs about Rs 270 crore, was put into orbit about 17 minutes after the launch.
ISRO said that the GSAT-6A satellite is similar to GSAT-6 but comes with a few improvements.
The organization said that the two improvements include the use of the high thrust Vikas engine and an electromechanical actuation system
ISRO chairman K Sivan also told IANS that the communication satellite's Thursday launch will pave the way for another navigation satellite.
The next launch has been planned for the next fiscal.
The GSAT-6A satellite hopes to boost the operations of the Indian armed forces as it is likely to ease communication process especially in remote areas and regions with mountainous terrain.
The GSLV-F8, the launch vehicle of the GSAT-6A, was powered by a high-thrust Vikas engine, which ISRO also plans to use while launching the Chandrayaan-2 in October 2018. The second lunar mission was supposed to lift-off in April but was postponed to October as ISRO is still carrying out a few tests.