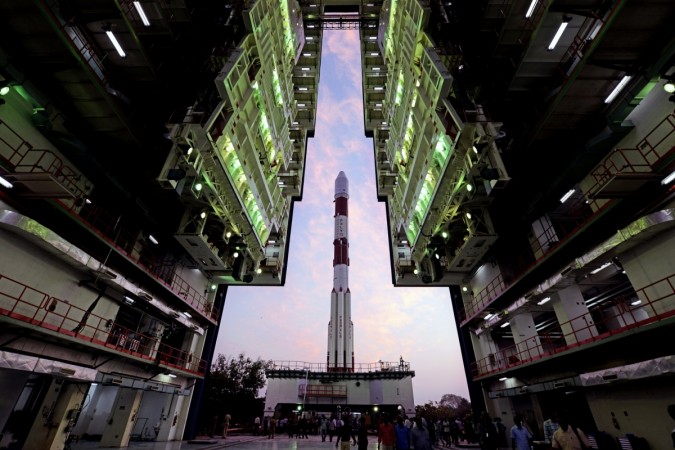 The Indian Space Research Organisation (ISRO) launched a record 20 satellites in one rocket in a 26-minute flight from the Satish Dhawan Space Centre in Sriharikota, Andhra Pradesh, on Wednesday at 9:25 a.m.
AS Kiran Kumar, chairman of ISRO, was quoted by NDTV as saying that the Polar Satellite Launch Vehicle C-34 (PSLV) has "done its job" of launching the satellites into space at a cost that is 10 times lesser than other space agencies.
The channel reported that the 320-tonne rocket had 17 small foreign satellites as co-passengers but the main satellite was Cartosat, an Indian earth observation satellite weighing 727 kgs, which has the potential to take images at sub-meter resolution.
The small foreign satellites in the rocket belong to the U.S., Canada, Germany and Indonesia.
According to NDTV, the rocket was carrying 13 US satellites, including Google-owned company Terra Bella's 110 kgs earth imaging satellite called SkySat Gen-2 capable of taking sub-meter resolution images and high definition video.
"Each of these small objects that you are putting into space will carry out their own activity, which is independent of the other, and each of them will live a wonderful life for a finite period for which they have been designed," Kumar was quoted by the channel as saying. He added that launching 20 satellites in a single rocket is similar to "allowing birds to fly in space."
According to the Hindu, the 48-hour countdown, which includes health checks of the spacecraft and propellant filling operation preparations of the second stage (PS2) of PSLV-C34, for the launch began on Monday.
ISRO has beaten its earlier record of launching 10 satellites into space in April 2008. Russia, which launched 37 satellites in 2014 through its Dnepr rocket, is the current world record holder for placing the most number of satellites in a single launch, NDTV reported.