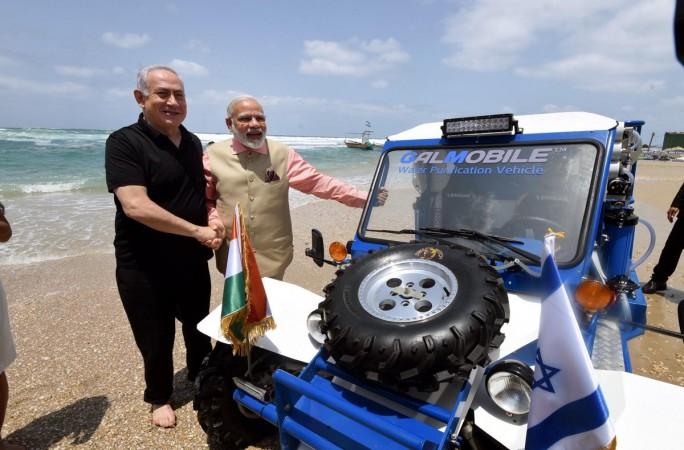 Israeli Prime Minister Benjamin Netanyahu is all set to visit India. The 68-year old will land in India on Sunday (January 14) for his four-day visit. And during the visit, Netanyahu will present a special gift to his Indian counterpart, Narendra Modi. The gift in question is the Gal-Mobile.
The name will be unheard for many but not for the PM of India. During PM Modi's visit to Israel in July 2017, Netanyahu had shown the Gal-Mobile, the buggy-styled sea water purification machine. The two world leaders had gone to a beach in Dor, Israel, on this special vehicle. Both the leaders had also tasted the purified water from the machine back in July 2017.
PM Modi was flabbergasted with the usability of the GalMobile back then. Hence it looks like Netanyahu has decided to gift the same on his visit to India. The vehicle is reportedly in transit and will reach Indian shores soon.
What is GalMobile?
The GalMobile is a product of G.A.L. Water Technologies which has been working in the field of water purification for over 20 years.
GalMobile is an independent, integrated water purification vehicle, designed to produce high-quality drinking water. It is useful in natural disasters like earthquakes, floods, military use in rough terrain and rural areas to provide drinkable water.
The GalMobile is a first of its kind in the world as the vehicle carries the whole mobile desalination plant. It can purify up to 20,000 litres of seawater a day and 80,000 litres of brackish, muddy or contaminated river water. It uses a 12V low voltage system.
Since it is compact in demotions, transporting to locations by truck or by air is not a herculean task. In order to deploy the GalMobile, one needs less than 30 minutes, by just two people.
The machine has a range of 1,000km and operating time of 60 hours without refuelling. It can travel up to 120kmph and has an integrated water storage tank.
Source: Firstpost