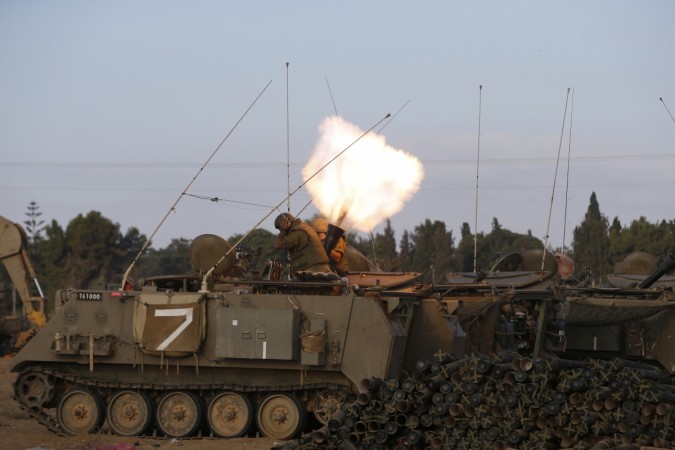 With Israel and Hamas agreeing to a three-day ceasefire that begins on Tuesday, the former has announced a total retreat of its ground troops from Gaza by the time the truce comes into effect.
The withdrawal is said to be completed by 8am (05:00 GMT) on Tuesday, when the 72-hour ceasefire, brokered by Egypt, will be put in place.
Israel had begun the withdrawal of its ground troops from the Gaza Strip on Sunday, after almost a month of attacks that left about 1,800 Palestinians dead in the bloodiest conflict between the warring sides. So far, 60 Israelis have also lost their lives in the conflict.
Israel is winding down its offensive, given the lack of a disengagement deal with Hamas, Reuters reported.
While Israel had begun air strikes on Gaza on 8 July following rocket firing by Hamas, it had sent in its ground troops from 17 July in a bid to destroy cross-border tunnels used by Hamas to attack Israel. It said it is close to completing its mission of destroying these tunnels.
However, Israel had stopped short of calling it a 'withdrawal'. Israeli Cabinet Minister Amir Peretz is reported to have told a news channel that, "It is not a withdrawal. It's setting up a new line that is a more controlled line with the air force doing its work," indicating that air strikes would continue.
Israel had observe a unilateral ceasefire in the Gaza Strip on Monday for seven hours between 10 am to 5 pm (0700 to 1400 GMT). "If the truce is breached, the military will return fire during the declared duration of the truce," an Israeli official told Reuters. However, the truce was not observed in the southern town of Rafah in Gaza, where three Israeli soldiers were killed by Hamas on Friday.
While Israel claims the 7-hour truce was called to facilitate humanitarian aid and allow displaced Palestinians to go home, Hamas was reportedly suspicious of the motive behind the truce.
"The calm Israel declared is unilateral and aims to divert attention away from the Israeli massacres. We do not trust such a calm and we urge our people to exercise caution," the group's spokesman, Sami Abu Zuhri, told Reuters.
About 3,000 Palestinians are reported to have been displaced in the conflict that has been raging for close to four weeks.
Even in the midst of winding down, an Israeli airstrike killed ten people at a United Nations shelter on Sunday, which the United States has called "appalling" and "disgraceful".