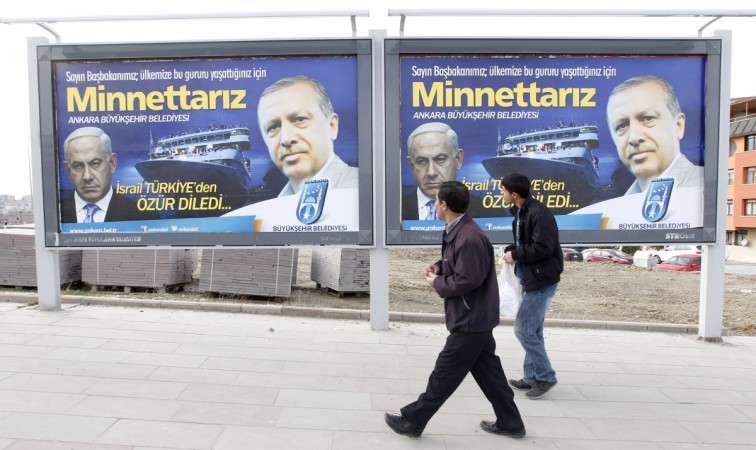 Israel Prime Minister Benjamin Netanyahu said on Monday that the Israel-Turkey deal ending six-year long stand-off between the two countries will be "immense" for the economy. The two countries have decided to resume full diplomatic ties.
Netanyahu was in Rome to meet United States Secretary of State John Kerry who welcomed the agreement reached by the two former allies.
Relations between Israel and Turkey soured after air strikes from Israel killed 10 Turkish pro-Palestine activists who were trying to sail to the Gaza Strip in 2010. The stand-off finally ended on Sunday after the Netanyahu and Turkey's President Tayyip Erdogan reached an agreement over the killings. Israel will be paying $20 million to families of those who died on the ship, while Turkey will drop criminal charges against Israeli soldiers, the New York Times reported.
"It has also immense implications for the Israeli economy, and I use that word advisedly," Netanyahu told reporters together with Kerry, according to Reuters.
"We are obviously pleased in the administration. This is a step we wanted to see happen," said Kerry, welcoming the agreement.
The U.S. has been trying to bring together the former allies as it needs allies in the Middle East to contain the Islamic State group. Meanwhile, the two Middle Eastern countries also have shared agenda such as keeping Iran in check, the NYT reported.
The deal was reportedly in the offing for months as Israel was looking for customers for its offshore gas exports, agencies reported.
Meanwhile, Erdogan reportedly talked to Palestinian President Mahmoud Abbas on Sunday saying that a deal, which would improve the humanitarian situation in Gaza, has been reached with Israel.
The deal is going to be announced formally on Monday by Netanyahu in Rome and Turkish Prime Minister Binali Yildirim in Ankara.