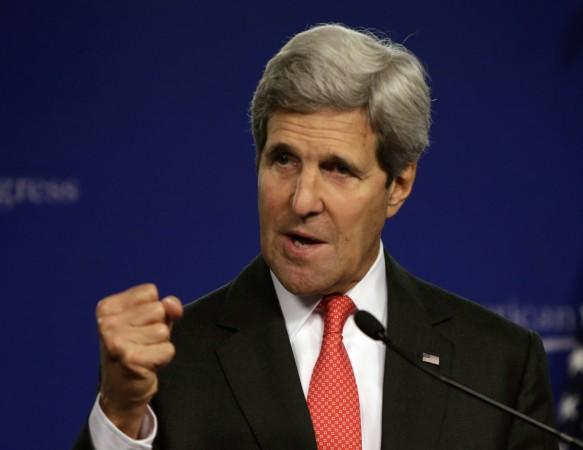 Israel reportedly spied on US Secretary of State John Kerry during the 2013 peace talks with the Palestinians, according to German news weekly Der Spiegel.
The report stated that Kerry's calls during the Israel-Palestine peace talks last year were not made through encrypted devices, but on normal telephones, with the conversations transmitted by satellite.
Kerry is believed to have made several calls from his flight, which reportedly does not have an encrypted phone line. Hence the US diplomat had to switch to a regular satellite phone. And some of his conversations were tapped by the Israeli intelligence agencies, the report claimed.
Confirming the phone-tapping from several of its sources in the secret services, the German weekly pointed out that besides Israel, at least one more country might have tapped Kerry's phone calls with high-ranking officials from the Middle East.
The report suggested that Israel could have used the information obtained from Kerry's conversations to get an upper hand in its own negotiations. It should be noted that Israel had squarely rejected the peace accord brought in by the US last year.
The US State Department and Israel both reportedly refused Der Spiegel's request for comment on the scandal.
This, however, is not the first time that Israel has been blamed for eavesdropping on top American leaders.
Earlier in May, Newsweek, citing a book by an British-Israeli author Ahron Bregman, had reported that 15 years ago, Israel secretly listened to the conservation between the then-US President Bill Clinton and Syria's former leader Hafez al-Assad.
The conversation had centered around Middle East peace talks back then as well.
Bregman, author of "Cursed Victory: A History of Israel and the Occupied Territories" claimed in his book that the Israeli intelligence had also eavesdropped on conversations between Syria's foreign minister in New York and Assad in Damascus during the 1999 talks.
Gaza Crisis: UN School Targeted Again
Meanwhile, following the failure of the 72-hour ceasefire on Friday, the Israeli forces fired a missile on a UN school sheltering Palestinians - with this being the second such incident in the last one week.
According to the Gaza officials the strike in Rafah, near the entrance of the UN school sheltering displaced Palestinians on Sunday, killed 10 and wounded 35.
Witnesses told New York Times that the people killed were waiting in queue for food supplies, when the missile struck the building.