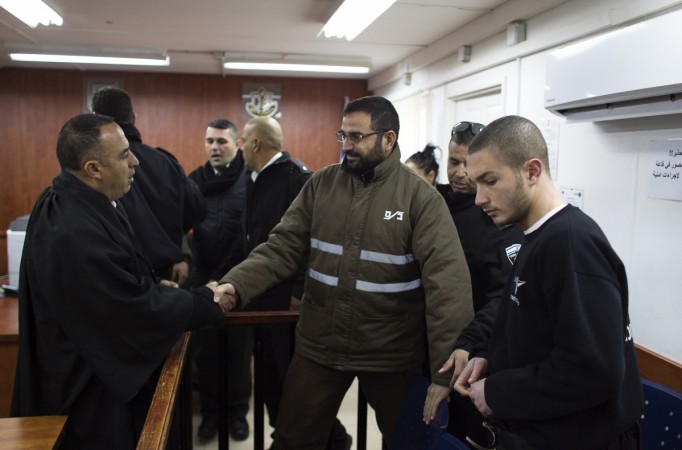 A Palestinian who organised the abduction and killing of three Israeli teenagers in June last year was sentenced on Tuesday to life imprisonment by an Israeli military court.
Hussam Kawasmeh, the Palestinian man, was also ordered to pay compensation of $63,000 to all the three families.
Kawasmeh, a member of the Palestinian militant group Hamas, was arrested last year.
"The accused was convicted of the most serious crimes ... the cold-blooded and terrible murder of three young people who were going home to their families," reports Al Jazeera, citing court documents.
The court ruled that his plot to murder the teenagers in West Bank triggered the 50-day Gaza war last year.
The war saw about 2, 100 Palestinians and about 75 Israelis, including 67 soldiers being killed, besides widespread destruction of Palestinian infrastructure.
At the court hearing on Tuesday, the prosecutor alleged that Kawasmeh killed the teenagers because they were Jews, failed to see them as human, Jerusalem Post reported.
The actual killing was carried out by his two accomplices, Amer Abu Eisha, 32, and Marwan Kawasme, 29, who were killed in an exchange of fire with Israeli forces last September.
On 12 June 2014, the three Israeli students, Naftali Fraenkel, 16, Gilad Shaer, 16, and Eyal Yifrah, 19, were hitchhiking when they were abducted. Their bodies were found in the West Bank three weeks later.
In an alleged revenge attack next month, a Palestinian youth, Mohammed Abu Khudair, was abducted and burned to death in Jerusalem by three suspected Jewish assailants, who have been charged with the murder.
Khudair's death, followed by arrests of suspected Hamas activists across the West Bank, led to clashes between Palestinians and the Israeli police in East Jerusalem, which snowballed into the Gaza war in July and August.
According to the Palestinian Health Ministry, over 2,100 Palestinians, most of them civilians.
Sixty-seven Israeli soldiers and six civilians were also killed in the Gaza war of 2014.