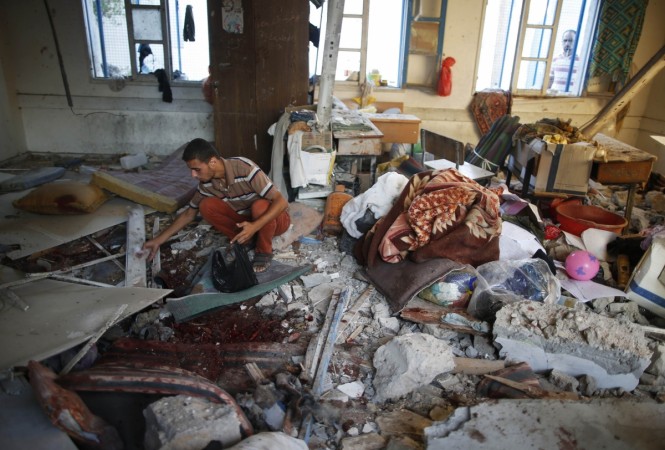 Israel, refusing to take direct responsibility for the shelling of school housing displaced civilians in Gaza, has said it will investigate the incident.
This comes after the US and UN condemned the overnight ambush, which reportedly killed at least 16. Faced with the mounting criticism, Israel said its military was only responding to mortar rounds launched from near the school.
"We have a policy – we don't target civilians", a government spokesman, Mark Regev told BBC.
"We will investigate that, and if we find that it was errant fire from Israel I'm sure we will apologise," Regev said while speaking during the Newsnight program.
"It's not clear to us that it was our fire but we know for a fact there was hostile fire on our people from the vicinity of the school," he said adding that Hamas were in fact, hiding weapons in those civilian facilities and UN shelters.
"We don't want to hurt innocent Gaza civilians. That's not our desire".
Immediately after the deadly attack on the UN school in Gaza on Wednesday morning, the United Nations declared "enough is enough".
UN Deputy Secretary-General Jan Eliasson noted that with 1.8 million people living in the area, the size he described as equal to Detroit and Philadelphia, there was nowhere for people to flee the war that has killed about 1,360 Palestinians – most of them civilians.
"This is a moment where you really have to say 'enough is enough' and you have to search for the right words to convince those who have the power to stop this," Eliasson told reporters at the United Nations.
While Israel claims to regularly warn residents through phone calls, text messages, leaflets and dud missiles launched on their roofs to prepare them for an impending missile attack, United Nations argued that there is simply no place for such a large number of people to go.
"Where do they go? There's very few places to go in Gaza," Eliasson noted.
More than 100 Palestinians were killed on Wednesday alone in the three-week-old war that shows no sign of respite.
UN Secretary-General Ban Ki-moon was also quick to react to the attack calling it "unjustifiable."
"It demands accountability and justice," he said speaking in Costa Rica on Wednesday.
"Nothing is more shameful than attacking sleeping children," he added
Senior UN aid official John Ging told reporters in New York that this was the fifth UN school sheltering civilians that has been shelled during the 23-day conflict.
"If this were a conflict elsewhere in the world they would at least have the option of crossing borders and seeking sanctuary in neighbouring countries. They don't have that option," Ging said.