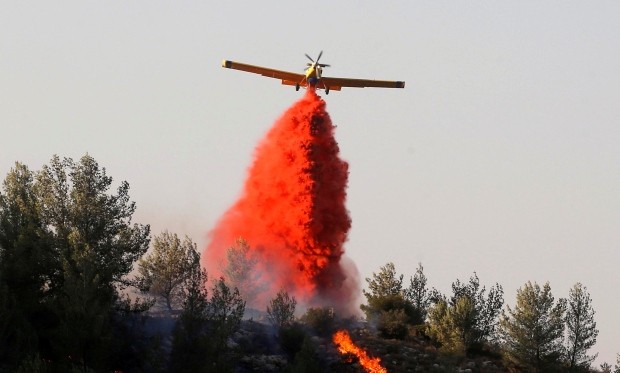 Palestine on Thursday had offered to send four fighting teams to Israel to help combat the growing blaze across the country, ignoring the conflict between the two states. Israel accepted the help on Friday as thousands evacuated the city of Haifa as the fire intensified.
Around 80,000 people in Israel's third largest city Haifa have been asked to evacuate the region as strong winds in the north of the city are strengthening the wildfire. Reports state that the fire is spreading at a rapid rate and are threatening homes near Jerusalem and the West Bank.
A senior official said that the Coordinator of Government Activities in the Territories is handling the cooperation between Palestinian and Israeli firefighting teams. Reports state that around 130 people have been injured in the fire so far, however no one is in a critical condition.
Turkey, Greece, Russia, Italy, Cyprus and Croatia on Thursday also agreed to send around 10 planes to assist Israel in battling the wildfire. A Boeing 747 "Supertanker" firefighting plane is also said to arrive in Israel from the United States within 28 hours for assistance.
According to the police chief of Israel, Roni Alsheich, arson is suspected in some of these cases. "Every fire that was the result of arson or incitement to arson is terror in every way and we'll treat it as such. Anyone who tries to burn parts of the state of Israel will be severely punished," the chief was quoted as saying by Haaretz newspaper.
Public Security Minister Gilad Erdan told Channel 10 TV news that eight people have been arrested under suspicion of arson. Reports state that arson is suspected in around half of the fires and the police found "flammable materials and liquids poured in certain areas." "We need to be prepared for a new type of terror," he also added.