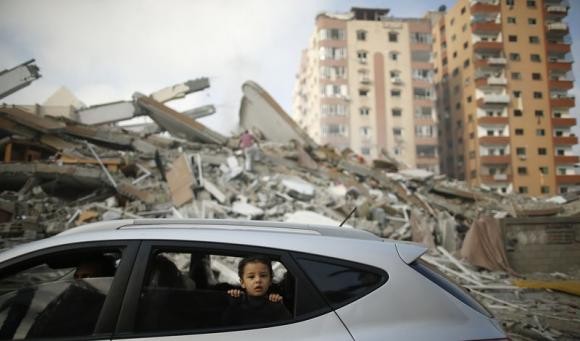 While Hamas has claimed that Palestine has achieved a "permanent" ceasefire after seven weeks of deadly fighting with Israel, in which more than 2000 people lost their lives, reports suggest that the open-ended truce is limited and hardly different from the ones proposed earlier in the fighting.
Hamas took to celebrations on the street after the ceasefire came into effect on Tuesday evening, and marked the truce as a "victory of resistance".
"We declare the victory of the Palestinian resistance, the victory of Gaza," Sami Abu Zuhri, a Hamas spokesman, announced at Al Shifa Hospital, The New York Times reported.
But, according to NYT, the ceasefire conditions are hardly different from the ones proposed on the seventh day of the fighting, when far less people had been killed or affected.
But the Egypt-brokered truce only offers limited opening of the Israeli-controlled border to facilitate entry of humanitarian aid to begin restoration in Gaza and the restoration of a six-nautical-mile fishing zone off the coast of Gaza.
However, Hamas' demands of ending Israeli occupation of Palestine territories are still largely unaddressed, while the Gaza blockade by Israel and Egypt persists, thus blocking trade and travel for residents. There is also no clarity on ending the ban on exports from Gaza.
Over the last 50 days, 2,143 Palestinians including children were killed, more than 11,000 were wounded and 100,000 were left homeless. On the Israeli side, 64 soldiers and six civilians were killed. Just hours before the truce, the attacks continued vehemently, with Hamas killing two Israelis with mortar shelling, while Israel brought down a five-story building and airstrikes killed 12 Palestinians, including two children. The Gaza Strip could be set back by a decade as reconstruction is expected to take at least 10 years.
Thus, it is valid to ask what Hamas achieved by postponing a ceasefire agreement that has heavily cost the very people it is defending.
The Jerusalem Post in fact taunts Hamas saying "it was not promised anything except that which had been offered at the start of the military campaign".
It rejects Hamas' claims of a "victory" and instead calls the ceasefire "an impressive achievement for Israel."
An Israeli leader himself expressed disappointment. "I ask myself, what have we accomplished If we would have acted much more aggressively to begin with, we would have ended this fighting with a much lower price and much preferable conditions," Danny Danon, a leader of Netanyahu's Likud Party was heard saying on Army Radio, NYT reported.
If the ceasefire is honoured for at least a month, Hamas will then get to negotiate on its demands for an airport and a seaport in Gaza, while Israel is expected to continue to push the militant outfit to disarm.
However, going by precedent, both sides may not accept the demands.
United Nations Secretary General put it aptly in his statement on the ceasefire – "Any peace effort that does not tackle the root causes of the crisis will do little more than set the stage for the next cycle of violence," he said, urging that the blockade on Gaza be lifted and Israel's security concerns be addressed.