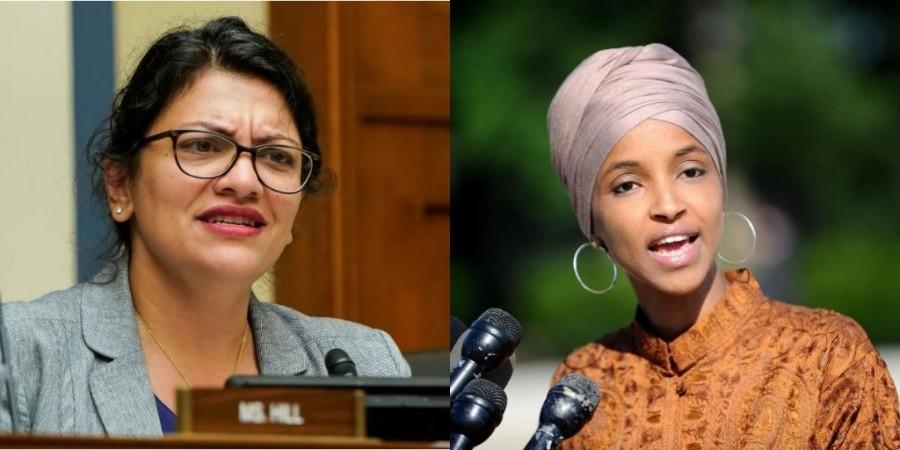 Prime Minister Benjamin Netanyahu on Thursday barred US Democratic congresswomen Rashida Tlaib and Ilhan Omar from making a planned trip to Israel, shortly after US President Donald Trump called on his ally not to let them in.
Tlaib and Omar, the first two Muslim women elected to Congress, are members of their party's progressive wing and sharp critics both of Trump and of Israel's policy toward the Palestinians.
The moves, which were immediately condemned by many Democratic leaders in the United States as well as Palestinians, could help whip up support among Trump and Netanyahu's conservative voter bases as they head into election campaigns.
Israel holds a national election on Sept. 17 and Trump faces re-election in November 2020.
Tlaib and Omar have voiced support for the pro-Palestinian Boycott, Divestment, Sanctions (BDS) movement over Israel's policies toward Palestinians in the West Bank and Gaza Strip. Under Israeli law, BDS backers can be denied entry to Israel.
Omar called Thursday's decision an "affront" and "an insult to democratic values."
Israel had initially chosen to allow the visit. A source who took part in consultations Netanyahu held with Cabinet members and advisers on Wednesday told Reuters that Israel backtracked due to pressure from Trump. The pressure was reported by the Axios news site on Saturday but denied by the White House.
"In a discussion held two weeks ago all the officials were in favor of letting them in but, after Trump's pressure, they reversed the decision," the source said, speaking on condition of anonymity.
In a tweet on Thursday, Trump wrote: "It would show great weakness if Israel allowed Rep. Omar and Rep. Tlaib to visit ... They are a disgrace!"
Trump's request appeared to contravene a US government policy that says the United States seeks "equal treatment and freedom to travel" for all US citizens regardless of ethnicity. It says those denied entry should be given a written explanation by Israel.
Trump has in recent months accused Tlaib, Omar and two other first-term Democratic congresswomen of color -- dubbed "the Squad" -- of hostility to Israel in a barrage condemned by critics as racist and widely seen as a way to drum up votes for 2020.
Omar is a particularly favorite target. At a recent rally in North Carolina, supporters chanted "Send Her Back" after Trump falsely accused her of supporting al Qaeda.
The 37-year-old lawmaker who represents a Minnesota congressional district, immigrated to the United States from Somalia as a child. US-born Tlaib, 43, has roots in the West Bank.