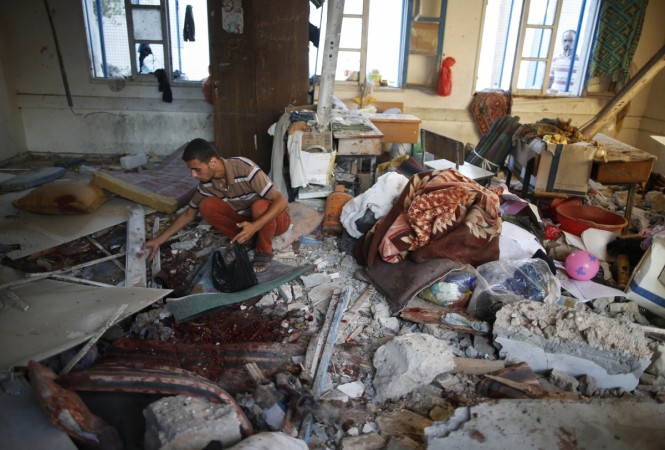 Palestinian health officials in the Gaza Strip have said early Wednesday that at least 20 people were killed, and dozens others injured when a school where civilians were taking shelter in, was shelled by Israel.
The school was among many buildings operated by the Israelli refugee agency, UNRWA for many displaced Palestinians in Gaza. The Israeli Defence Force has so far not been able to confirm the claim, while the matter is currently under investigation, according to reports.
The shelling came only hours after UNRWA reported that for the third time in two weeks, weapons were found hidden in one of its Gaza schools. The refugee agency called a United Nations munition exporter to dispose off the rockets in a bid to make the school safe, the Jerusalem Post reported, citing UNRWA spokesman Chris Gunness.
The fighting in Gaza, however, made it impossible for the experts to access the site. Other international broadcasters such as BBC, have stated that the reports of the weapons being placed inside the school could not be confirmed.
There was also no clear indication on whether or not the school that was shelled was the same school that the refugee agency reported had the weapons hidden inside.
Two weeks ago 20 rockets were found in one of the schools and handed over to the local authorities.
An official for the UN's Palestinian refugee agency, was cited by Aljazeera as saying that Wednesday's strike hit a bathroom and two classrooms inside the girl's school.
The deadly attack comes as Israel, earlier on Wednesday, unleashed its heaviest bombardment in a three-week-old war against Hamas, that has killed over 1,200 Palestinians, most of them civilians. On the Israeli side, the war has killed 53 people.
The shelling on the school brought Wednesday morning's death toll to at least 35, reports suggest.
The incident also occurs hours after Hamas released a video showing a dramatic assault on Israeli soldiers after infiltrating into the area using a tunnel. The incident was expected to further raise the Israeli temperature with the Prime Minister Benjamin Netanyahu pledging to continue its assaults for long.
The Israeli army has pledged to destroy all tunnels used by the militants to cross the border, within a week's time.