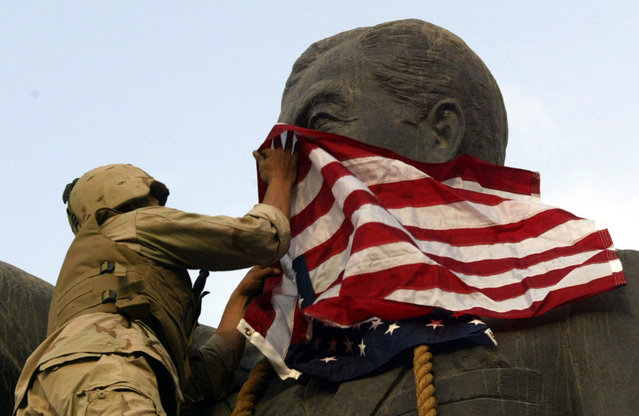 Hours after America's top military officer General Martin Dempsey indicated that the United States may consider taking up ground combat in Iraq, the Islamic State militants released a video stating that it was prepared to battle the American soldiers.
In the high quality 52-seconds video released by Al Hayat Media Center, which is an Islamic State affiliate, the militant group suggested that it was ready to kill all American ground forces should they meet in battle.
Using top quality slow-motion replays, clean edits and high-quality images as found popular Hollywood action movies, the Islamic State militants seem to be suggesting that it is well prepared to combat the US army in a battle.
The video titled- "Flames of War Trailer" starts with US tanks and troops under a heavy mortar shelling. The next shot shows a US Marine carrying a wounded soldier to an armored vehicle.
The images then flip to a shot of the "Mission Accomplished" banner that was put up the day President George W. Bush landed in Iraq - six weeks after the United States invaded the country in 2003.
The images then show President Barack Obama and a grainy image of White House shot in night from a moving vehicle.
In the video Obama can be heard saying, "American combat troops will not be returning to fight in Iraq." The shot then fades into dark, and is then followed by a clip of a masked Islamic State militant preparing to kill men on their knees with a pistol.
The words "Flames of War" appear, with the phrase "Fighting has just begun". The video ends with the words "Coming Soon."
The video seems to be a response to Dempsey's statement before the Senate Armed Services Committee, in which he said that U.S. troops advising and assisting Iraq's military was a possibility.
"To be clear, if we reach the point where I believe our advisers should accompany Iraqi troops on attacks against specific ISIL targets, I will recommend that to the President," Dempsey said during testimony before the committee reported CNN.
However, Dempsey's comment is in contradiction to President Obama's promise that the campaign to defeat and destroy the Islamic State would not include American "boots on the ground."
A New York Times report noted that the new video "Flames of War" is an attempt by the group to raise the stakes and show its superiority by challenging a superpower.
"In some ways, it's attempting to prove to jihadists that while Al Qaeda is missing in action, we are rising to the occasion," Laith Alkhouri, a senior analyst at Flashpoint Global Partners, a New York security consulting firm that tracks militant websites, told the American Daily.
"It demonstrates the true intention of the group, to operate on an international level."