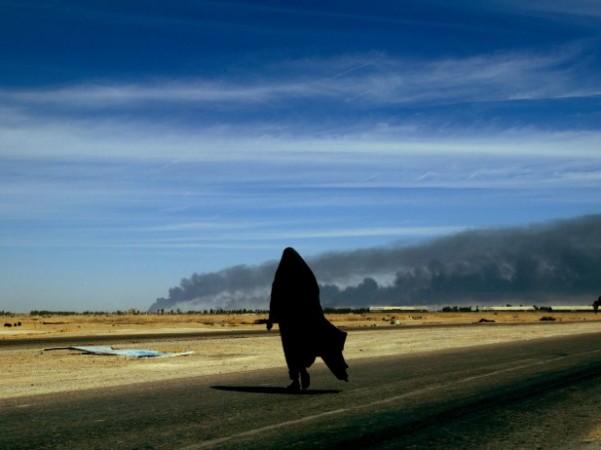 In a shocking incident, it is found that the Islamic State militants are marrying girls as young as seven.
Social media is abuzz with condemnation, after a picture of a seven-year-old being married off to an Islamic State militant, believed to be at least in his mid-30s appeared on Twitter.
It is believed that the post made its way online in July, around at the same time when reports of ISIS setting up a marriage bureau for its militants in Iraq and Syria surfaced online.
#ISIS caveman announces his marriage from a 7 year old girl in public. Musul, Iraq. pic.twitter.com/QpUQcuZmAC

— Brother Tawhidi (ر) (@Tawhidicom) August 1, 2014
In the picture, a grinning Islamic State jihadi is seen with his arms around a seven year girl,who has an ISIS flag draped around her. The militant is shown speaking holding a microphone, while the young child is crying.
The credibility of the report surrounding the picture, however, could not be verified. But the photo it is believed to have been taken by Al-Hayat TV, an Arabic television channel.
One assertion is that the young child is a bride from Mosul. While another claims that the girl is from a minority sect converted into Islam and then married off to a jihadi.
ISIS Marriage Bureau offers Special Honeymoon Package
The Al Qaeda faction group that formerly called itself the Islamic State of Iraq and Syria, reportedly has set up a marriage bureau for its militants in al Bab, a town north-east of Aleppo city, that finds eligible women for its militants, reported Reuters.
The special marriage bureau also offers special honeymoon tours for the newly married ISIS militants, reported Daily Mail.
ISIS Militants Marrying for Sex?
Earlier, too, there had been report that the Islamic State militants are making desperate attempts to gain women.
Mirror had reported that in Mosul and Tikrit, the militants distributed leaflets calling on all "women virgin or not (to) join jihad and cleanse themselves by sleeping with militants."
Reports from Baiji - another town fully under ISIS control - had claimed that the militants were conducting door-to-door checks for unmarried women.
"They said that many of their mujahedin were unmarried and wanted a wife. They insisted on coming into my house to look at the women's ID cards (which in Iraq show marital status)," local resident Abu Lahid had told The Independent.