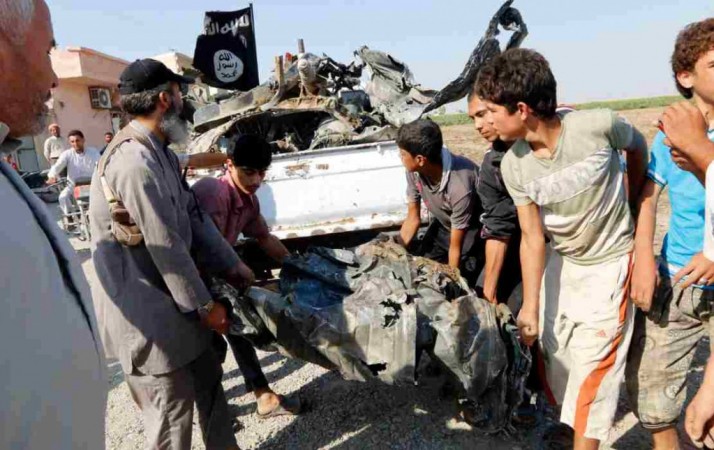 Social media early on Thursday was abuzz with activity after Islamic State affiliated Twitter accounts claimed that the Sunni militant group has shot down a US plane in Mosul.
A Twitter account run by a supporter of the Islamic State Abū Rayān al-'Arabī @SalilSawaarim first reported that a US jet that was carrying out bombing on ISIS targets in Mosul was shot down by the militant group.
#BREAKING: The lions of Khilāfah just shot down an American aircraft that was carrying airstrikes on top of Mosul !!

— Abū Rayān al-'Arabī (@SalilSawaarim) September 18, 2014
Soon after this, another Twitter account also affiliated to Islamic State of Iraq and Syria (ISIS) asked the militants to watch out for an aggressive attack from Americans in reaction to the downing of its plane.
@AbuShiddah Ameen Guard yourself-- they will be frothing mad after the plane downed in Mosul Inshallah it was American — لبوة الله (@AllahsLioness) September 18, 2014
The report from Mosul, however, could not be independently verified. Reports of the downing of the US plane, if true, could have a damning impact on America's campaign against the Islamic State.
It is found that the Islamic State militants have come in possession of SA-16 MANPADs, that can hit an aircraft flying at 11,000 ft.
#ISIS may have hi-tech #MANPAD shoulder-fired surface-to-air missiles from #Syrian airfield raid http://t.co/fHmfHZ2d5p via @washingtonpost

— Robert Morton (@Robert4787) August 26, 2014
Earlier on Tuesday, the Islamic State fighters had shot down a Syrian war plane using anti-aircraft guns, Reuters reported.
The Syrian Observatory for Human Rights, a monitoring group, which gathers information from a network of activists on the ground, stated it was the first time the militant group had downed a military jet since declaring its cross-border caliphate in June.
The plane came down outside Islamic State's stronghold of Raqqa city, 400 km (250 miles) northeast of Damascus, during air strikes on territory controlled by the group.
The US air attack in Iraq that began in August has consistently targeted the ISIS strongholds in Mosul. Reports now indicate that the Kurdish forces helped by the US war planes and drones now have been able to recapture the strategic Mosul dam from the Islamic State militants.