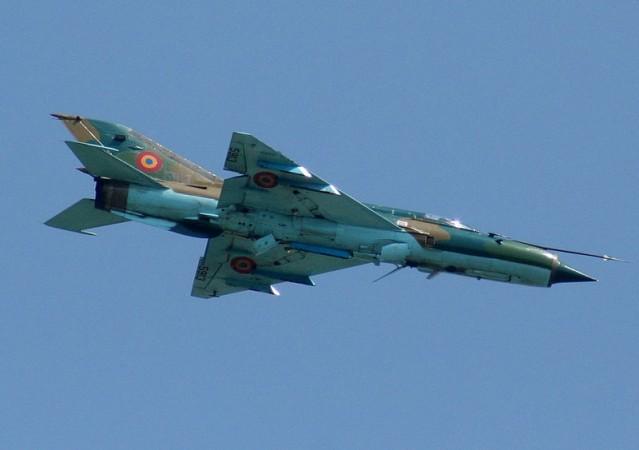 Amidst claims that 'Islamic State Air Force' has started training its men for flying jet planes, a video that shows an ISIS fighter jet landing in Aleppo has gone viral.
The video posted on YouTube is believed to have been captured by a local Aleppo resident. The video claims that it is the first footage of a MiG jet flown by an ISIS fighter landing at the captured al-Jarrah military airport east of Aleppo.
The video that is filmed on a mobile phone comes at a time when debate are on over the possibility of an Islamic State Air Force (ISAF).
It is still unclear whether the jets seen in the video were equipped with weaponry or whether the pilots could fly longer distance in the planes, which witnesses said appeared to be Russian-made MiG 21 or MiG 23 models captured from the Syrian military.
Earlier on Friday, reports claimed that Iraqi pilots, who have joined Islamic State in Syria, have begun training ISIS militants to fly fighter jets captured from the Syrian Assad government. Reports indicated that at least three MiGs were captured by ISIS.
Watch: Video of a MiG Fighter Plane Landing in Aleppo,Flown by ISIS Fighter
The UK-based Syrian Observatory for Human Rights (SOHR) also have reported that the ISIS fighter planes have been seen making low altitude flights that lasted for mere five to 10 minutes at the Aleppo base.
A Reuters report citing Rami Abdulrahman of SOHR stated that the ISIS fighters are being trained by Iraqi pilots who were once officers in the army of former Iraqi president Saddam Hussein.
"People saw the flights, they went up many times from the airport and they are flying in the skies outside the airport and coming back," he said, citing witnesses in northern Aleppo province near the base, which is 70 km (45 miles) south of the Turkish border.
However. the claims of an ISAF fighter unit cannot immediately be verified. A Vice News report appeared suspicious over the claims. "Is this 'Islamic State Air Force' utter nonsense? The short answer is, it's mostly nonsense - but not entirely nonsense," the report observed.
The report noted the ISIS eventually establishing the Islamic State Air Force is a possibility, as history showed even Taliban in Afghanistan or the Tamil Tigers (LTTE) in Sri Lanka had done so. However, it may still have a long way to go, as most of the Syrian planes captured by ISIS are either grounded and in need of repair, added the report.