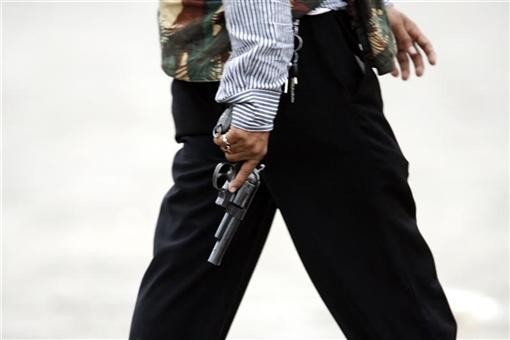 A day after the controversy of terrorists wearing skull caps during a mock exercise, video of an anti-terror drill in Surat, Gujarat, showing dummy terrorists shouting a pro-Islamic slogan surfaced on Thursday.
The latest video shows the policemen holding two "terrorists", who shout, "Kill us if you want. Islam Zindabad (long live Islam)." The mock operation was held recently in the Narmada district, reports NDTV.
There has been widespread condemnation over the assumption that terrorists are Muslims after the emergence of the two anti-terror drill videos on Wednesday.
Policemen capturing and then pinning down three men in white skullcaps before shoving them into jeeps have been shown in the footage.
Chief Minister Anandiben Patel was forced to apologise and call the drill a mistake after the 'offensive' video.
"It's wrong to link religion with terrorism. The issue has been resolved and the matter should be put to rest now. The mistake has been rectified," Anandiben said.
Drills are being conducted to prepare Gujarat, Prime Minister Narendra Modi's home state, for two high profile events this month.
The Vibrant Gujarat Investors' Summit will follow the Pravasi Bharatiya Divas for overseas Indians, which starts next week. The former will feature Modi and US Secretary of State John Kerry as speakers.
Kamal Farooqui of the All India Muslim Personal Law Board, describing the drills as "atrocious and highly condemnable", told NDTV, "They are profiling the Muslim community. They should apologise or face action. They should be taken to the court."