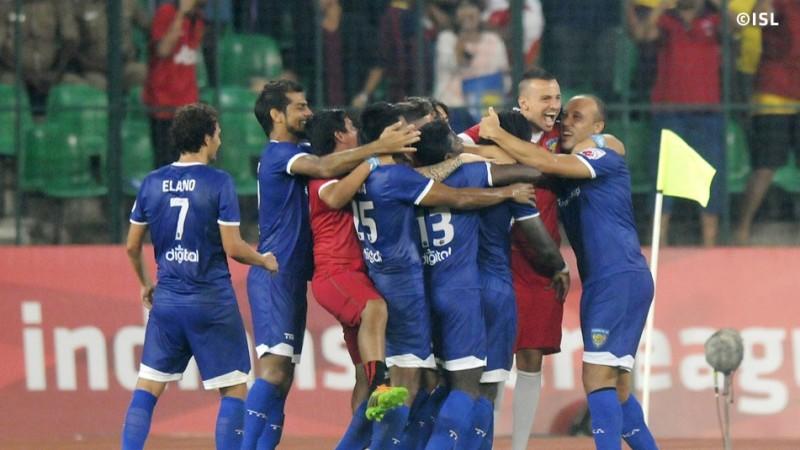 Chennaiyin FC player-manager Marco Materazzi says that he was impressed to see his side play well and record a 2-1 win over Kerala Blasters despite the Italian being forced to make tactical chances following the injury to defender Abhishek Das.
Das was forced off the pitch with an unspecified injury in the 36th minute, and this prompted Materazzi to make some changes to accommodate left-back Dhanachandra Singh.
"We needed a change in strategy because we played Abhishek in the pitch," the Italian told ISL's official website. "We played 3-4-1-2 and when Abhishek came out we had to change that but the boys played well."
Despite going ahead very early on in the game, through an Elano penalty, Chennaiyin were unable to take control of the match and this resulted in the Blasters getting an equaliser in the 50th minute through Iain Hume.
However, an acrobatic goal from defender Bernard Mendy helped Chennaiyin secure the three points against the Blasters. And Materazzi was quick to praise Mendy's match-winning goal. "In India, or anywhere in the world, it was a fantastic goal!"
Meanwhile, Kerala Blasters player-manager David James feels that his side were unlucky to lose the game especially considering the number of chances they created against Chennaiyin.
"It was one of those games. We had plenty of chances, but they got a freekick and a penalty and got 2 goals and I think that cost us the game," James told ISL's official website.
Despite admitting that things have not been going well for the Blasters due to them having suffered two back-to-back defeats against NorthEast United FC and Chennaiyin, the former Liverpool and Manchester City goalkeeper insists that they will improve.
"The ball hasn't bounced well for us so far but we'll try to get our first point in the next game," he added.
However, the 44-year-old admits that the away matches are not going to be easy, as the Blasters are scheduled to play their first home game only in their sixth match in the ISL.
"We've got 5 away games and the fans are going to be with the home team, just like in Chennai and against the NorthEast, so it's going to be really tough for us."