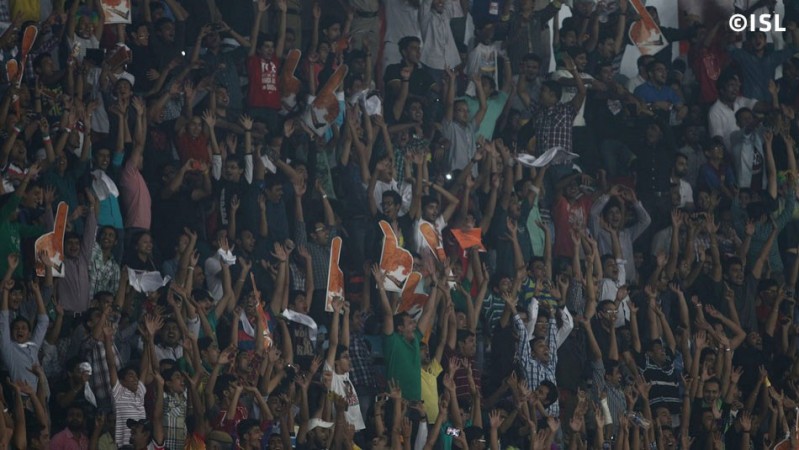 Just six weeks into its inaugural edition, the Indian Super League (ISL) has become the fourth most popular football competition in the world, surpassing Serie A - Italy's top-flight league - in average crowd attendance.
ISL organisers have revealed that more than one million fans have showed up for the matches already, with an average attendance of 24,357, making it the fourth most popular football league behind Germany's Bundesliga, England's Premier League and Spain's La Liga.
"We are delighted to have hosted 1 million fans across the eight stadiums already in our first season and are proud to be counted as the world's fourth best football league in terms of average attendance. We have always believed that the sport of football, if given the right platform, has the potential for tremendous growth in India," an ISL spokesperson pointed out.
"With the first season of the Hero ISL now drawing closer to its business end and fans starting to build an affinity for their local clubs and heroes, the numbers are only expected to swell further. The Hero ISL in its first year has taken a massive step towards driving the birth of India as a footballing nation and promises to scale greater heights in the years to come."
ISL has been modelled on the Indian Premier League - the money-spinning cricket tournament - and is backed by some of the biggest names in entertainment, sport and business in the country.
Bollywood superstars and former cricket players form the owners of the eight franchises in the competition, while the teams also managed to land some of the biggest names in the football world.
The likes of Alessandro Del Piero, Nicolas Anelka, Elano, David Trezeguet and Joan Capdevilla, who have been playing top-division football in Australia, England, Brazil, Argentina and Spain respectively last season were roped in, while the likes of Robert Pires, Freddie Ljungberg and Luis Garcia were brought out of retirement to feature in the inaugural edition.