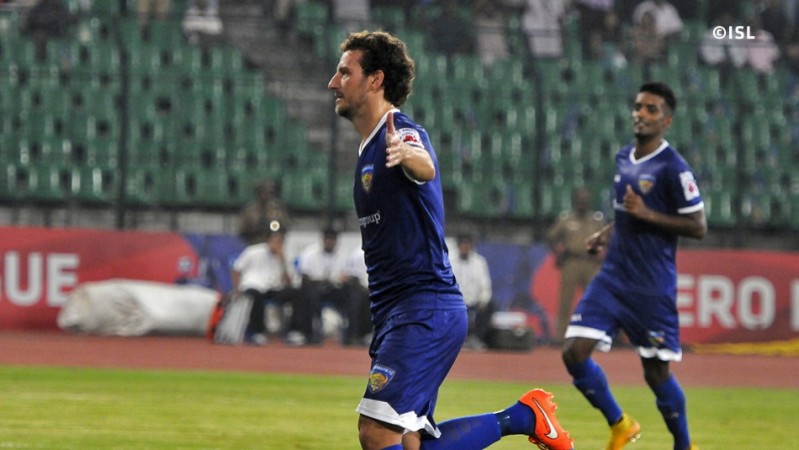 Chennaiyin FC midfielder Elano refused to take credit for his side's thumping 5-1 win over Mumbai City FC despite grabbing a brace and providing two assists in the match.
The former Manchester City midfielder was named as the Hero of the match after scoring two goals, via a penalty and a freekick, and providing two assists to Jeje Lalpekhlua and Valencia Mendoza against Mumbai City.
But Elano insisted that the win resulted due to the overall team effort rather than his individual brilliance.
"It would have been impossible to assist them without their brilliant runs," the 33-year-old Brazilian told ISL's official website. "In fact, all the players supported each other. It was a team effort!"
The former Galatasaray and Manchester City midfielder, who is now the highest scorer in the Indian Super League, feels that his hard work in training is finally "paying off."
"I practice freekicks from different positions in training so all that hard work is paying off," he added.
Chennaiyin FC centre-back Mikaël Silvestre, on the other hand, feels that their comprehensive comeback against Mumbai, following their defeat in Delhi, was due to them making some tactical alterations.
"We had to respond to our defeat in Delhi, we had some tactical adjustments, the game plan worked perfectly and it was a pitch where we could develop our football from the back," the former France defender told ISL's official website.
Apart from the tactics, the ex Manchester United and Arsenal defender also feels that his side were physically better against Mumbai City.
"I think physically we played much better, everybody was involved more compared to the game in Delhi so it's important for us to get a good record at home," he added.
Meanwhile, Mumbai City boss Peter Reid gave his views on his side's crushing defeat to Chennaiyin, claiming that their "poor defending" cost them the game.
"There were too many balls down the middle and they got on them and that is just poor defending. We attack as a team and we defend as a team so I'm not going to point any fingers at individuals, I think that's unfair. But as a team, as Mumbai City, we defended very poorly this evening," Reid told ISL's official website.
Former Chelsea striker Nicolas Anelka failed to make any impact in his first ISL fixture, but Reid refused to blame him for the defeat.
"I think it was a difficult game for Nicolas because we were under pressure after conceding and they really defended well with [Bernard] Mendy at the back and [Marco] Materazzi in the midfield," added Reid.
"Nicolas lasted the 90 minutes, it's something he hasn't done in a long time but one man doesn't make the team. I really expected more from Mumbai City as a team."