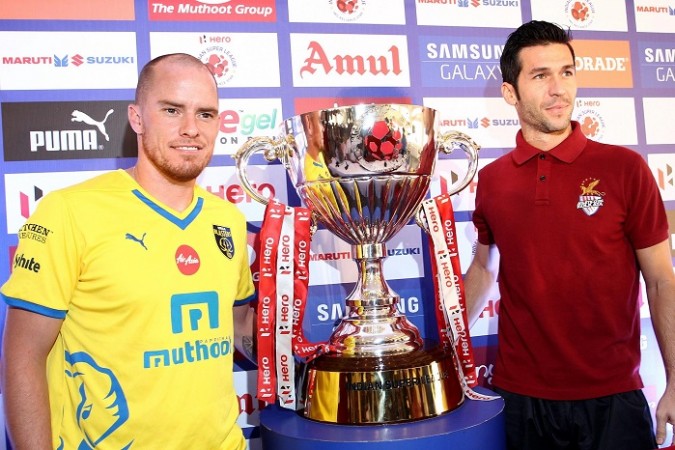 That's all she wrote folks. It's been an absorbing final, with Atletico de Kolkata showing the fight to win the title. Congrats to Sourav Ganguly and Atletico Madrid as well and to the ISL for a wonderful first season.
Bye, bye, until next season.
9.14 pm: The medals and trophy will be handed out after the obligatory presentation ceremony. Rafique says "I wanted to win, and I had the confidence. I thank Allah for helping me score the goal to win Atletico de Kolkata the title."
9.05 pm: Atletico de Kolkata won the title much like their sister club Atletico Madrid won the La Liga crown last season – on their defence – which was near unbreachable on the night and indeed the knockout rounds, where they did not concede a single goal. Do that and you always have a chance of winning.
9.04 pm: While Rafique will take the plaudits, plenty of praise must also go to goalkeeper Edel, who was immense. Had he not made that outstanding save off Chopra it might have been the men in yellow celebrating the title win rather than the team in red and white.
9 pm: If only Chopra had scored with that chance, Kerala will think, if only they could take their chances in the final. Kerala Blasters were the better team overall, but in football that matters little. The only thing that matters is the goals, and Rafique ensured that most important statistic would favour Atletico de Kolkata – the first ever ISL champions!
8.58 pm: Rafique, who has only played five minutes of football before this final – talk about an inspired substitution from Habas -- is the hero with the winning goal in the fourth minute of added time as Atletico de Kolkata beat Kerala Blasters 1-0 in the inaugural ISL final.
A simple goal in the end as Rafique jumps at the near post to guide the ball inside the near post off a corner.
8.56 pm: The entire Kolkata team fall on Rafique, who cannot believe he has scored. Kerala Blasters players are in disbelief. Tears happy and sad pour down the DY Patil Stadium in Navi Mumbai.
8.54 pm: Goal Atletico! Unbelievable scenes as Mohammed Rafique scores a header off a corner in the added time of stoppage time to win Kolkata the ISL title in dramatic style!
8.49 pm: Substitute Rafique gets a yellow card. Two minutes of normal time to go. Still 0-0.
8.45 pm: Five minutes to go. Atletico win a freekick in a dangerous area. Wall does its job for Kerala as Borja is denied.
8.44 pm: Unbelievable save from Edel. Chopra thought he had scored, but somehow Edel and the woodwork deny Kerala the winning goal.
8.41 pm: Ten minutes to go. The first goal of the final probably wins it.
8.40 pm: Chopra almost scores! The striker plays a one-two with Pearson, but his shot is straight at Edel. A few inches to the other side and that would have been a goal.
8.38 pm: Penn Orji comes on for Pulga with Hume apparently shaking his injury off. 12 minutes to go, still 0-0
8.36 pm: A big penalty appeal from Kolkata as Arnal goes down. Irmatov has the perfect view and waved play on.
8.34 pm: And just as I say that, Atletico are going to make a substitution. It looks like it is going to be Mohammed Rafique, who comes in for Rafi.
8.30 pm: 20 minutes of normal time to go in this ISL final. Will we see a goal or is extra time destined? No signs of substitutions from either teams. Luis Garcia looks like he wants to come in, though for Kolkata.
8.26 pm: Atletico happyto hit Keralaon the counter, and Arnal nearly did it moments ago. And worryingly for the Blasters, Hume seems to be injured, an ankle it looks like. Still 0-0. Jhingan then gets a yellow card for a cynical foul on Arnal.
8.24 pm: Big chance! Arnal runs clear on goal after beating the offside trap, but the Kolkata forward cannot find the target from a tight angle.
8.23 pm: Kerala havetaken control of the game with the Blasters attacking relentlessly, even if that Atletico defence shows no signs of being breached.
8.20 pm: Jhingan nearly scores an own goal at the other end. We don't want another won do we now Sandesh! Hume runs clear again, but the angle is too tight to take a shot and there is no-one the square the ball to. Chopra is really running the game for the Blasters.
8.18 pm: Chopra is drawing a lot of fouls and yellow cards with Borja the latest to be booked by referee Ravshan Irmatov. The setpieces from Kerala, though, have been pretty poor with Edel again allowed to catch the ball easily.
8.16 pm: Big big chance for Kerala. Hume is put clear by Chopra, but the in-form striker just dwells too long on the ball and the opportunity is gone. Ah Hume should have at least tested the keeper there!
8.15 pm: End to end stuff again at the start of the second, with Ishfaq Ahmed nearly scything through the Kolkata defence, before Sanju Pradhan fires a shot high at the other end after leaving a couple of Kerala defenders on their bums.
8.12 pm: Another big chance for Kerala. Pearson again, but the midfielder skews his shot wide after really good work down the right. And then Chopra runs onto a ball down the left channel, with the striker's stinging shot again kept out by the excellent Edel.
8.11 pm: First real chance of the second 45. Pearson gets in behind the defence, but the initial pass is just overhit and the Scot's cross is well caught by Edel.
8.08 pm: Atletico start on the front foot in the first couple of minutes of this mammoth second half of the ISL final.
8.05 pm: The players are back on the field. Second Half begins.
8.04 pm: There's something you thought you would never see. Sachin Tendulkar taking a selfie with Liverpool legend Ian Rush!
7.58 pm: Sachin and Dada speak at halftime. Both pretty happy with the ISL, even if Ganguly throws in a googly by saying there are too many Blasters fans in the crowd owing to the final being played in Tendulkar's home town – Mumbai.
7.49 pm: That is halftime and it is still 0-0. Kerala have been the better team, with more possession in the opponent's half. But that defence od Kolkata just looks too organised for the Blasters at the moment. Hume and co. need to find a way to get in behind the defence and stretch them a little bit more via the flanks as well.
At the other end, Kolkata had one really good chance, which James, with all his experience, thwarted. Kolkata should be happy with the way the first half has gone, which is probably according to plan.
7.45 pm: Three minutes to go to halftime.
7.42 pm: Nato is the next player in the referee's book as Chopra draws the foul. The Strikers striker looks in the mood here, he really wants a goal. Kolkata lose the plot a little and complain over the placing of the ball, which leads to another yellow card – for Josemi. Freekick to be taken by Hume, though. And.....it's saved brilliantly by Edel diving to his right.
7.38 pm: This is a really good final, as James is called into action at the other end, having to show all of his experience to stop the ball from nestling into the net before saving comfortably from Pody.
7.37 pm: Some brilliant attacking play from Kerala. James starts it, Pearson and Pulga run down the left, the ball finally falls for Mehtab, whose shot from 21 yards is too tame and straight at Edel. Good football, though, from the Blasters, who turned defence into attack in the blink of an eye.
You feel they will need to speed up their game if they are to find a way through this "Great Wall of China-like" Atletico defence.
7.35 pm: Atletico looking really solid in defence and looking to spring on the counter at the other end. Rafi has played well so far in the absence of Fikru Teferra.
7.30 pm: A really good freekick position for Atletico de Kolkata, but Pody fires it well high from around 20 yards.
7.29 pm: Big talking point. Rafi runs clear and Nirmal Chettri brings him down. Could have got a straight red as the last man, but I think there was just enough cover around him for referee Irmatov to brandish the yellow instead.
7.27 pm: A nice one-two between Chopra and Stephen Pearson wins Kerala a corner. But nothing comes of the setpiece, with Edel gathering well.
7.24 pm: A really good freekick from Pody, which is just about cleared by Kerala Blasters after Rafi, playing against the team from his home state, had won a freekick with some neat play.
7.22 pm: A period of sustained pressure from Kerala Blasters, but the Kolkata defence is just too well drilled for them at the moment. Chopra looking to get more into the game, dropping deep to take passes.
7.20 pm: 17 minutes gone. No goals so far, with both teams still sizing each other up like a couple of lions pondering on who should or will make the first move.
7.15 pm: Freekick for Kerala. Borja brings Hume down. A Good spot this Edel does his job, though, and punched clear. But Ishfaq Ahmed takes the ball and takes a shot from outside the box, easy save though for Edel.
7.14 pm: First shot of the night and it is Pulga, who curls one from 15 yards, but the shot is blocked by Atletico. Corner for Kerala is played short and nothing comes of it.
7.12 pm: Pretty end to end start to the ISL final. Both teams charging forward at every opportunity.
7.09 pm: Kerala Blasters pressing well and putting pressure on the ball in their own half. A Decent start from them so far.
7.07 pm: Josemi to Kolkata's rescue. A last-ditch challenge on Michael Chopra, or the Kerala striker would have been through on goal.
7.06 pm: first foul of the night. Hume on Josemi, a little soft that.
7.05 pm: Bit of early possession for Atletico, mostly in their own half, though. The Blasters get the ball back and knock around the ball themselves for a bit.
7.04 pm: Not the greatest of starts for Kerala as the ball is given away in midfield, but Kolkata cannot make anything of it.
7.03 pm: And that is kickoff! The ISL Final between Kerala Blasters and Atletico de Kolkata is underway.
7 pm: Yup almost there guys. Kickoff is upon us in a few seconds.
6.56 pm: Well, well. Atletico Madrid players are also here to watch the action, led by their brilliant midfielder Koke. Wonder what they will think about this final, having just won the La Liga last season and narrowly lost in the Champions League final?
6.55 pm: The National Anthem has just been played. We are just a few minutes away from kickoff in this inaugural ISL final. Sachin and Ganguly greets the teams along with Nita Ambani.
6.52 pm: The ISL trophy is brought in just to remind the players of what they are playing for. And here are the players folks!
6.51 pm: It's two up front for Kerala Blasters again. Can Iain Hume and Michael Chopra combine to beat that stingy Kolkata defence?
6.48 pm: Now it isjust a slight wait for the players to walk onto the pitch. Until then chants of "Sachin, Sachin" rings around the ground.
6.45 pm: Well the Closing Ceremony is over, and thankfully it was pretty short and sweet. Back to the football now!
6.42 pm: The ball is flying across the stadium, have no idea why. Let's hope the players shots don't do the same thing!
6.41 pm: One giant Puma ball had made its way into the stadium. And presto, there is Nita Ambani (no, not from the ball, standing beside it).
6.37 pm: Ah Sachin also has his family with him. His wife Anjali is there and so are his kids Sara and Arjun (yes, I knew their names, didn't need a quick jaunt to Wikipedia).
6.36 pm: Happy New Year "Indiawale" song rings out with more dancing and acrobatics. Wonder why, since 12 of the 22 players on the pitch will be foreigners!
6.35 pm: Sourav Ganguly is shown having a conversation with AIFF president. No doubt he will be nervous just like Sachin and the rest of the players, and of course every single fan of the two clubs.
6.34 pm: The usual jumping and dancing and formations can be seen, with plenty of acrobatics thrown in as well.
Monsieur Harbhajan Singh is there in a Kerala Blasters shirt to give Sachin Tendulkar some company.
6.31: And it begins! With a few drums and what not. The guys drumming certainly look pretty happy.
6.30 pm: I'm sure Nita Ambani will make her customary appearance in front of the cameras. Let's see who else is there for this grand Closing Ceremony.
6.29 pm: The Closing Ceremony (whatever it is) is just about to begin.
6.28 pm: Sachin Tendulkar and Sourav Ganguly are both in the house, with the cameras just panning towards the former. The Indian legend won the World Cup in his city nearly four years ago, and the Little Master would like to add the ISL title as well.
6.21 pm: Kerala Blasters vs Atletico de Kolkata, it doesn't get any better than this (when it comes to Indian football), and will it be Sachin Tendulkar or Sourav Ganguly who will be celebrating at the end of the night.
Welcome to IBTimes India's Live Blog of the ISL Final
The ISL final is finally upon us and what a final it promises to be, as Kerala and Kolkata, two lands that absolutely love their football wait for an early Christmas present.
Here are the lineups for you and there are a couple of surprises.
Kerala Blasters: James; Chetri, Jhingan, Falvey, Soumik Dey; Ishfaq, Mehtab, Pearson, Pulga; Hume, Chopra.
Atletico de Kolkata: Edel; Kingshuk, Arnab, Josemy, Pody; Borja, Nato; Sahni, Arnal, Sanju; Rafi.