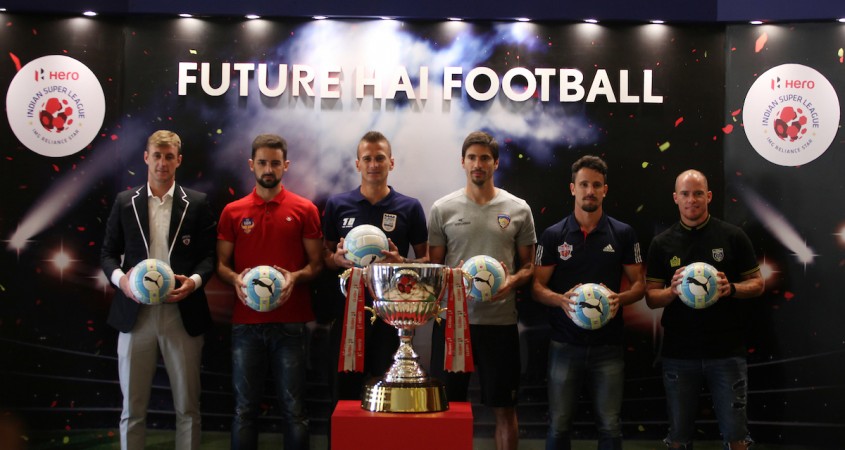 In the space of just two months and three days, head coach Alexandre Guimarães completely changed the fortunes of Mumbai City FC. A club which was associated with inconsistency and a leaky defence was transformed into one which finished on top of the table and kept a staggering nine clean sheets.
If the Costa Rican can pull off such a feat in a little more than 60 days, then this year's Indian Super League — which is exactly two months longer than the earlier seasons — will give him and other head coaches the time to impart their ideas on their squads in a more effective manner.
Mumbai City FC up for ISL 2017 season
"I think this season, there will be enough time for recovery, preparation and even try different styles. A longer league means every manager will have more time to impart their ideas to their team and know players better," mentioned Guimarães at the ISL Media Day on Friday November 10.
Guimarães is the only returning head coach, unless you count Albert Roca, who was in charge of Bengaluru FC when the club was part of the I-League last season.
But while Guimarães didn't bat an eyelid before accepting the offer to coach in Mumbai for one more year, FC Goa midfielder Bruno Pinheiro said that a longer season was the biggest reason in his return to India. Bruno played for the Gaurs in the first season and is back after a two-year gap.
"One of the main reasons for me agreeing to come back is the extension of the league. The biggest advantage of this is for the players, who need time to recover and a longer season means better performances," said Bruno.
Chennaiyin FC hail the extended format
Chennaiyin FC manager John Gregory didn't mince words while discussing the lengths of the previous ISL editions.
"I remember seeing the fixture lists from previous seasons and there was a point where Chennaiyin played three games in six days. That was too much to ask for from players.
"As for training drills, I won't do anything different compared to England, where Championship clubs play 46 games in 38 weeks along with (midweek) cup games as well. But a longer league gives coaches and players enough to know each other," the 63-year-old said.
Iain Hume says ISL is a proper league now
Iain Hume, who has been one of the key players in the ISL, said that he would have come back for another season irrespective of the duration, but stated a 4-month long duration meant that "earlier the ISL was a tournament, now it is a league."
Hume also said that he doesn't see a longer league being a hindrance in attracting top names to the ISL. He added that the likes of former Manchester United players Dimitar Berbatov and Wes Brown signing up for the league proved that the decision to increase its length was a sign of progression.
"More teams and a longer league mean that the league will become more and more established," says Hume.
FC Pune City up for a fresh start
Serbian Ranko Popovic, who takes over from Antonio Habas at FC Pune City said that he was impressed with how receptive the Indian players have been so far to his methods, but said that shorter leagues mean "too much vacation time."
"That was the only surprise for me that players have to come back from such a long vacation. In Europe, we get a month or two, and that is the way forward for the ISL," he said.
Pune's winger Kean Lewis said that it was a big plus point for players' welfare to be employed for a longer period of time.
Longer league better for players and coaches
All the head coaches who spoke at the ISL Media Day in Mumbai, were categorical about the number of ideas they wanted to implement on their teams — and that all these ideas needed time to be executed.
With the duration of the league lasting for double the time of its previous editions, this will be the season that coaches and players will cherish in terms of learning and executing their skills on the pitch.