It has not been even 24 hours since the ISL 2017 players' draft got over, but the Kerala Blasters have already started to bolster their squad. They have roped in one of the best strikers in the history of ISL, Iain Hume, who is going to bolster their attacking line for the fourth edition of the competition.
The 33-year old started his ISL career with Kerala Blasters, but left the club and joined Atletico de Kolkata, which has been renamed ATK, for two seasons.
Kerala fans might be disappointed when he left, but his news of rejoining the team would bring smiles to their faces as he is one of the best players ISL has seen so far. He has scored 23 goals in the competition so far.
The former Leicester City striker is known for his goal-scoring ability, and found the back of the net five times in his debut season. Since then, he has gone on to become even more prolific, scoring 18 goals in the last two seasons. With Blasters having acquired the signing of Hume, this could be one of their best deals as he has got the feel of the ISL. He knows the competition in and out, and the quality required to win the title.
With Hume in Blasters' squad, the Canadian has become the fourth striker to join the team. CK Vineeth, Prashanth Karuthadathkuni and Karan Sawhney are the other three.
Kerala Blasters fans have always loved Hume as he proved to be one of the key players in the first season. What makes this signing even more dangerous is the fact that he will forge a strong partnership with CK Vineeth, one of the superstars of ISL last season.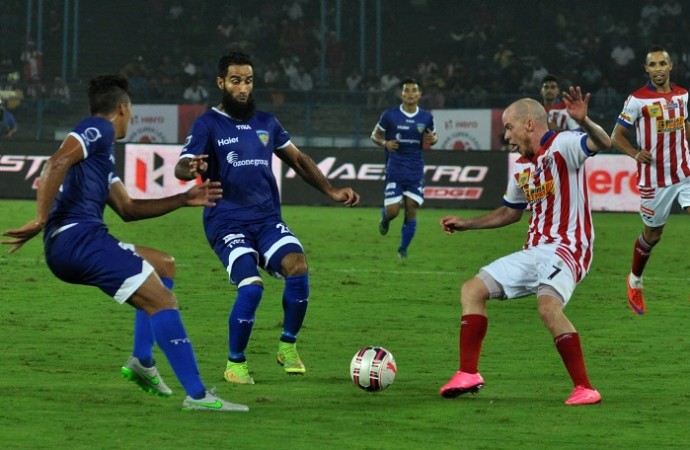 Kerala Blasters have already been one of the strongest teams in the competition, having reached the finals of the ISL on two instances. However, they are yet to win any ISL title. But, there are plenty of positive reasons, which makes us believe Kerala Blasters could win their first title in the fourth edition.
Vineeth was the highest goal-scorer for Blasters with five goals last season while Hume scored the same number in the inaugural season. Just imagine both the players playing for the same side in the next edition of the ISL, defenders of other teams must already be worrying about it.
The duo with their incredible goal-scoring ability and great skills will be a treat to watch. But, they need to develop a great sense of understanding as it will not be easy against some top quality oppositions as well.
If Hume and Vineeth can forge a strong attacking line, this could well be Kerala's year.