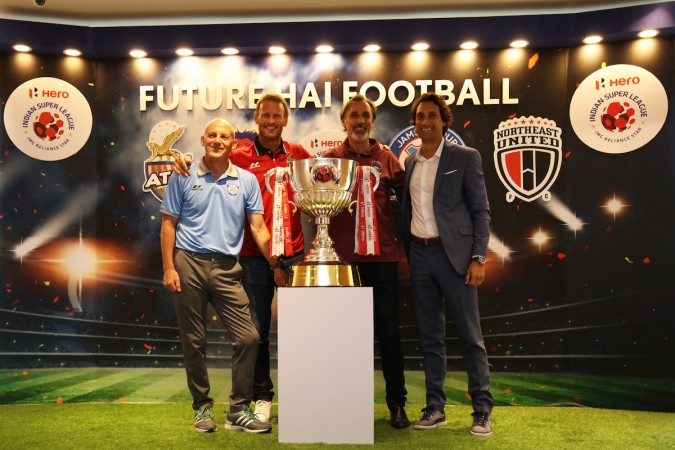 The fact that the Indian Super League teams will have to field at least six Indian players, this ISL 2017, has been lauded by foreign coaches, saying that the tweak in the rule in this season will help develop local players.
Until last season, the ISL teams could play a maximum of six foreigners, but the latest rule will, according to Jamshedpur FC head coach Steve Coppell, "add extra responsibility on Indian players to perform and develop."
A point echoed by fellow English head coaches Teddy Sheringham (ATK) and John Gregory (Chennaiyin FC) that the rule will help the development of Indian players.
"I think it's a good decision to have six Indians on the pitch at all times and it means Indians getting more chances to play and show their skills," said the former Manchester United legend Sheringham here at the ISL Media Day at Kolkata.
"We don't have a marquee signing this year but you will see that we have invested our money in young Indians who will not just come on for 10 minutes, but will form an integral part of my squad this season," explained Gregory.
Coaches hail quality of Indian players
Northeast United's head coach João Carlos Pires de Deus was one among many who were pleasantly surprised with the quality of Indian footballers they've worked with so far.
The Portuguese was impressed with his observations, and has already done extensive research on Indian sides, having watched lot of matches as he prepares to step into the unknown.
"You ask me if the Brazilians in my team will produce magic... but what is magic? It's not limited to Brazilians. Even the Indian players in our team are very skillful and can produce a lot of magic.
"You see the kid with blonde hair in the U17 World Cup team (Komal Thatal) and he was producing magic. So it's not limited to a nationality," he said.
"Rubbing shoulders with top players has made a huge difference to Indian footballers. You see them play with marquee signings and come up against top class forwards and midfielders and it automatically builds their confidence and the game," said Coppell, who is now into his second season in ISL.
"You see these foreigners and how they carry themselves and take care of their body and the Indian players get inspired by that. The ISL has played a huge role in this development,"
Indian players up for a fresh season
"The facilities, the coaching style, the technicalities all play a role and have made me a better player," Indian goalkeeper Albino Gomes said.
"For example, our coach wants to see me come out of the box and play as a sweeper sometimes and keep the ball down," , Gomes spoke of how his team Delhi Dynamos' head coach Miguel Angel Portugal is bringing subtle changes to his game.
"The ISL will eventually see a player emerge - someone like the Virat Kohli of Indian football - who will then carry the team in the future and inspire youngsters to play the sport. The development of youngsters is very important for any country's progress in a sport and this league will help in that," Miguel said.