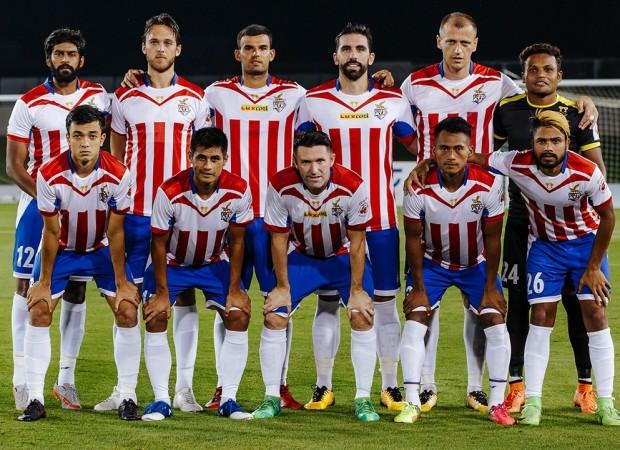 Two-time ISL champions ATK is on the verge of completing their gruelling ISL 2017 pre-season at the Nad Al Sheba Sports Complex, the state-of-the-art facility in Dubai.
ATK, with the new look side and a new coach at the helm of affairs, is charged up to perform to the best of potential in the upcoming season of the Indian Super League. The training module has been designed by head coach Teddy Sheringham to get the footballers in right physical shape for the new season, commencing November 17.
ATK started their pre-season campaign from 12th October and will return to Kolkata to acclimatize to the home conditions on 4th November.
The red-and-white brigade won all their three practice matches in style with Irish and English Premier League legend Robbie Keane scoring three goals and showing glimpses of his agility as a versatile forward.
The new Indian line up too impressed with their skills and goal scoring abilities with Striker Bipin Singh Thounaojam and forward Robin Singh being among goals.
Portuguese forward Santos Branco, better known as Zequinha, along with domestic midfielder Rupert Nongrum also adding to the score line.
The last practice match will be played on November 1. ATK is practicing twice in a day, with the schedule being morning 9:00 am to 11:00 am and evening 5:30 pm to 7:30 pm (under lights).
Score line – Practice Matches
ATK (3) – Robbie Keane (2); Robin Singh (1)
vs
DUBAI ALL STARS (0)
ATK (2) – Bipin Singh Thounaojam (1) & Rupert Nongrum (1)
vs
DUBAI IRISH FOOTBALL CLUB (1) – Joe Terry
ATK (3) – Robbie Keane (1); Zequinha (1) & Bipin Singh Thounaojam (1)
vs
Dibba Al-Hisn Sports and Culture Club (2) – Shadi and Malek