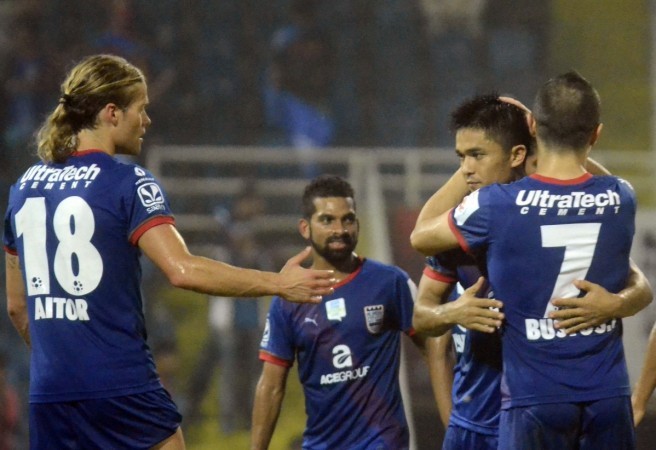 Mumbai City FC fans have been given a reason to cheer as the franchise have managed to retain the services of star striker Sunil Chhetri for Indian Super League (ISL) 2016 season. This was an expected move by the club, who will be keen to deliver in the third season of the ISL.
They finished a disappointing seventh (2014) and sixth (2015) in the first two seasons of the competition, and will need Chhetri to deliver for Mumbai City FC once again to improve their record in the competition.
The India international, who missed the first season of the ISL, was bought by Mumbai FC in the player auction in 2015 for a whopping Rs 1.2 crore. Chhetri, despite his team's poor show, was the fourth highest goalscorer in ISL 2015. The striker wants to help Mumbai FC come up with a better result in ISL 2016, which will start from Oct. 1.
"I am elated to return to Mumbai City FC for season three of the ISL. It is a great club with amazing fans. Ranbir, Mr. Parekh, Indranil and the entire team have been great to work with and I can't wait to don the blue of Mumbai and hopefully give the fans a better result!," Chhetri said.
Retaining the services of such a quality player will always be a welcome sign for anyone associated with the club. Mumbai City FC owner Ranbir Kapoor praised the player highly for his work rate and his skills.
"We are extremely excited to have Sunil back with us. A player of his quality provides a huge lift to the team. His work ethic is incredible and he sets the bar high for everyone and that's amazing to have in the dressing room. I'm sure he'll give the fans plenty of reasons to keep cheering for him this season too!," Ranbir said.
Mumbai are eager to make this their season, and have made some good signings. They have signed midfielder Krisztian Vadocz (Hungary) and defender Gerson Vieira (Brazil), who are both said to be versatile players, capable of playing in different positions. Brazilian goalkeeper Roberto Netto and Romanian defender Lucian Goian have also joined the side.
With Diego Forlan as their marquee player and Jackichand Singh and Sony Norde among other stars, Mumbai, who play their first match against FC Pune, look a quality side this season.
Besides the above mentioned players, Mumbai FC have also got a new coach in Alexandre Guimaraes, who replaced Frenchman Nicolas Anelka.