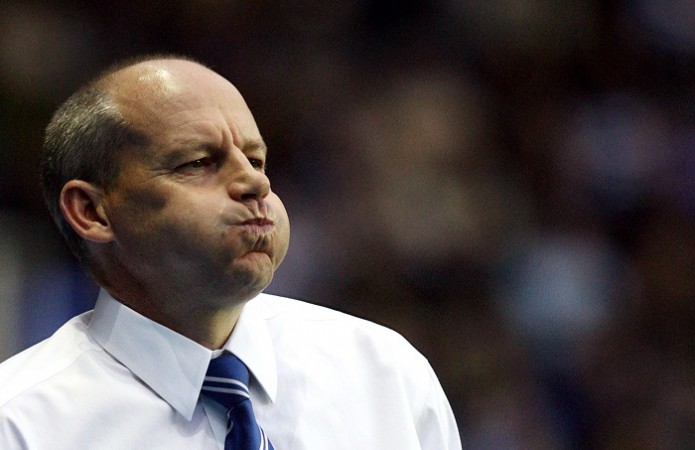 The Kerala Blasters at least ended their losing run in ISL 2016, but goals still continue to elude them as Steve Coppell's side were held to a goalless draw by the Delhi Dynamos on Sunday. With two losses and a draw, Sachin Tendulkar's side are already behind the eight ball in this early part of the Indian Super League season.
In three matches played, the Blasters are yet to score a single goal – their results read two 1-0 losses and one 0-0 draw, with the last two of those results coming at home.
On Sunday, the Blasters were marginally the better team, but the Dynamos, apart from one chance, when Michael Chopra was played in on goal and forced a nice save from the goalkeeper, were largely comfortable. Try as they might and despite having such a wonderful crowd to support them, Kerala do not seem to be able to find their attacking mojo.
"I thought we kept the ball a lot better and we tried to be progressive from the back," Coppell said. "They are a solid team who play with a sitting midfield. So it's hard to get at them.
"But I thought we didn't really over-commit ourselves, we played our game plan and we just needed the break. Obviously Michael had a couple of opportunities and we had some crossing situations but all in all I was pleased with the discipline and performance, the effort and the commitment.
"I just hope we get a goal to make these wonderful supporters happy so that they can go home happy. Once again the support was just magnificent, just special and all the players appreciate it."
Not scoring a single goal in their first three ISL 2016 matches is a major concern. Having made quite a few foreign player signings up front, including Chopra, who returned to this team, there was hope that the Kerala Blasters would turnaround their form from last season, when they finished last in the league table. But, the early signs suggest "struggle" is the word that will probably define them in ISL 2016 as well.
Unless, of course, something changes drastically. "All we can do is work hard," Coppell added. "We work in training, we do a lot of finishing. Sometimes if you come to our training facility and watch us crossing, finishing you think 'oh, fabulous it's going to come'.
"I am not going to turn a blind eye to it but I believe it is going to come. I always say that in life and not just football you get out what you put in but it does not come in equal instalments. You keep pushing and pushing and trying to improve. These players are really genuine in trying to improve and again in training they work ever so hard and I just feel that they will get their reward very shortly."
One of the talking points after the match was the substitution of Cedric Hengbart, the centre-back who was having a really good game. Eyebrows were raised when he was taken off for Elhadji Ndoye just past the hour, but Coppell revealed it was due to an injury.
"He had an injury," Coppell said. "He is a warrior, a brave footballer. He got an injury after 18 minutes I think and he stayed on until the second half.
"Obviously it's his warrior mentality to stay there and work hard for the team. I think as a captain he has certain responsibilities but I think as the game went on he was getting hampered by the injury and of course when he got booked we thought we should replace him."