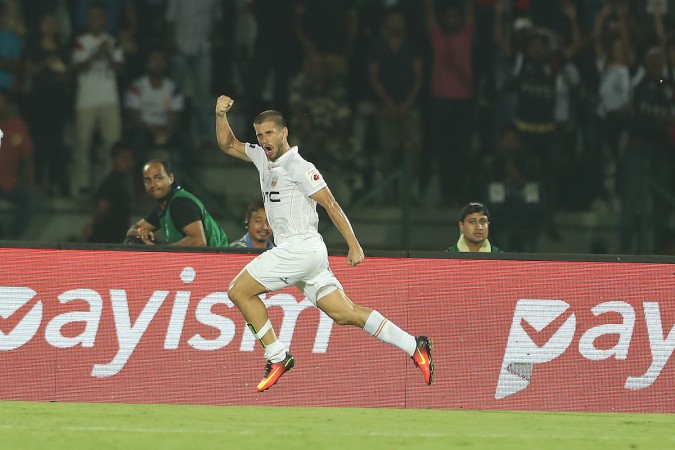 NorthEast United FC moved to the top of the Indian Super League 2016 points table on Wednesday as they produced a wonderful display of football to defeat FC Pune City by a 1-0 score at Balewadi in Pune. Emiliano Alfaro once again remained the scorer in the match.
It was a 10v10 battle as both teams had a player sent off during the match.
The first half was physical, intense and rash. Yellow cards, plethora of fouls and a red card remained the highlight of the first 45 minutes. More than the sporting action, it was NorthEast United FC's Nirmal Chhetri who hogged the limelight in the 38th minute of the match after he picked up a direct red card for a horrible tackle on FC Pune's Tato.
The tackle looked dangerous, but fortunately, not a major damage was inflicted on the ankle of the Spanish forward.
Nevertheless, the majority of the half was dominated with a lot of attacking chances for the away side. The terrific trio of Yusa Katsumi, Nico Velez and Emiliano Alfaro did enough damage to the Pune defence and didn't give the home side any scope of taking a breather.
The best chance on goal in the half came in the 41st minute when Romaric's free kick for NorthEast United saw a powerful header from Alfaro, but it wasn't enough to get past two-time Indian Super League winner Edel Bete, who dived to his side to parry the ball instantly.
The home side had the advantage in the second half when it came to the number of personnel on field. But even that changed as Pune got reduced to ten-men after defender Eduardo Ferreira committed a foul in the 71st minute to pick up a second booking in the match and get the marching orders.
That opened the perfect moment for NorthEast United to pile up more pressure on the Pune defence and finally get the opening blood as they very much deserved in the 79th minute. Romaric, Velez, Alfaro and Katsumi combined effortlessly and played some magical passes between themselves and the Uruguayan forward Alfaro was right in the middle to slot the ball into the net subtly.
For the home side, Lenny Rodrigues remained a workhorse down the right flank, while Jonatan Lucca also pulled the strings on a couple of occasions. But Antonio Habas' side failed to get the job done.