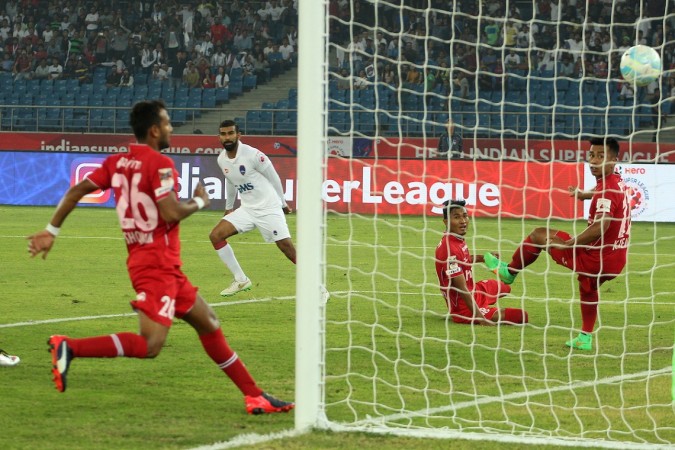 NorthEast United FC came from behind to record a draw against Delhi Dynamos at the JLN stadium in the national capital on Saturday. The final score remained 1-1 and Kean Lewis and Emiliano Alfaro remained the scorers.
Following this match, Gianluca Zambrotta's Dynamos remain without a defeat this season and Nelo Vingada's NorthEast continue leading the table.
Delhi Dynamos, playing their first home game of ISL 2016, got off to a flying start as the likes of Marcelinho and Lewis tested NorthEast United FC custodian Subrata Paul from early on. The Indian goalkeeper, nicknamed Spiderman, had conceded just once in the Indian Super League this season ahead of the game.
However, that tally doubled when Lewis finally got on to the scoresheet in the 38th minute of the match, slotting the ball into the far corner of the net after Subrata failed to hold on to the travelling ball which was delivered by Marcelinho from the corner.
The away side, despite trailing, didn't lose their momentum and the much-revered attacking line composed of Katsumi Yusa, Nico Velez and Alfaro never really stopped from taking numerous potshots on goal. There was a massive chance for Romaric to get the equaliser in the 42nd minute of the match but Delhi Dynamos custodian Toni Doblas was at the best of his form, parrying the ball away.
Another major chance fell for Alfaro, right before the half time, as the Uruguayan forward headed the ball into the goal, but just moments back, lanky Spanish defender Ruben Rocha made an unreal goalline clearance to prevent the scores from getting level.
Right at the start of the second half, it was that man Alfaro, who bagged his fourth goal of the tournament to become the top scorer as he capitalised on some defensive errors from the home side to slot home the equaliser in the 51st minute of the match, with Doblas horribly out of his position.
For the home side, Richard Gadze tried his best to get the lead once again for the home side in the second half but even after two back to back shots on goal, he couldn't hit the target. As the match progressed, both teams increased their momentum and host of chances fell on either end. Subrata, yet again, was giving a grand performance in the match, to prevent another defeat for his team.
Chances fell for Florent Malouda and Co on several occasions until the final whistle of the match and it remained an edge of the seat thriller. Both sides picking up a point each was a well and good result as Delhi and NorthEast both gave out some great performances throughout the 90 minutes.