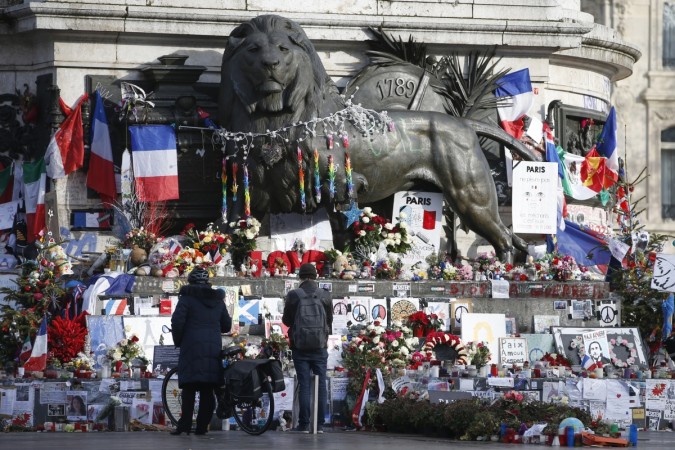 Extremist group Islamic State in Syria and Iraq (ISIS) reportedly released a video on Sunday "showing" the nine jihadists behind the Paris attacks and threatening attacks on the United Kingdom. At least 130 people were killed in the multiple attacks in Paris last year.
The video was posted with the title "Kill wherever you find them". It showed the pictures of four Belgians, three French citizens and two Iraqis, who had carried out the attacks in Paris, AFP reported.
The video, produced by ISIS' Al-Hayat Media Centre and uploaded to Islamic State's official Telegram channel, claimed to show the last statements of the nine jihadists. Some of the purported Paris attackers were reportedly seen beheading hostages in the video.
"These are the last messages of the nine lions of the caliphate who were mobilised from their lairs to make a whole country, France, get down on its knees," Reuters quoted the speaker as saying in the video.
Towards the end of the 17-minute-long video, ISIS threatened to attack Britain. The video also showed a picture of British Prime Minister David Cameron with the text: "Whoever stands in the ranks of kafir (infidels) will be a target for our swords."
The video footage also showed pictures of major London sites and Speaker of the House of Commons John Bercow. The pictures of Cameron and Bercow were shown with "crosshairs" over their faces, according to The Guardian.
The authenticity of the video has not been ascertained; it is being examined by the UK government.
"We are currently examining this latest Daesh propaganda video – another desperate move from an appalling terrorist group that is clearly in decline," The Guardian quoted a UK government spokesperson as saying.
Nine men in three groups attacked Bataclan theatre, several Parisian cafes and France's national soccer stadium -- Stade de France stadium -- on 13 November last year.