The Islamic State (IS) militant group on Wednesday released another propaganda video that shows a child speaking in an American accent and reportedly threatening United States President Donald Trump.
Libyan National Army kills 20 blindfolded 'ISIS fighters', sparking concern [GRAPHIC PHOTOS]
The 10-year-old boy who has identified himself as Yousef threatened Trump that the "battle" would not end in Mosul or Raqqa but in America.
According to the Daily Beast, this is the first time that an American child has been used by the ISIS militant group in a propaganda video.
Here's what the child said
"My message to Trump, the puppet of the Jews: Allah promised us victory, promised you defeat," he said, as he stood in the ruins of the Raqqa.
"This battle is not gonna end in Raqqa or Mosul. It's gonna end in you lands. By the word of Allah, we will have victory. So, get ready, for the fighting has just begun," said Yousef. The boy further says in the video that he moved to Syria from America with his family two years ago.
"My father's an American soldier who fought the mujahideen in Iraq," said the 10-year-old.
The Daily Beast has also mentioned another video of Yousef, wherein he is talking in Arabic and also reciting the Quran in Arabic. In other clips, he is also seen walking through the ruins of Raqqa with a seven-year-old boy named Abdullah from the northern Iraqi town of Sinjar.
All these video clips of the young boy are a part of the seven-minute video, entitled "This Fertile Nation," that was released on YouTube and its affiliated channels on social media.
Children radicalised
Meanwhile, the video has drawn the attention of experts who have found the involvement of children in propaganda videos as a worrying situation.
"It's significant that he identifies his father as a former US soldier and makes an overt threat to Trump," Mia Bloom, a Georgia State University professor who is currently conducting research on how children become involved in terrorist organisations, told The Beast.
"The use of children in this way is intended to show the conflict is multi-generational. That even the kids are radicalised," Bloom added.
Here's the video of the child shared on the news website.
Other videos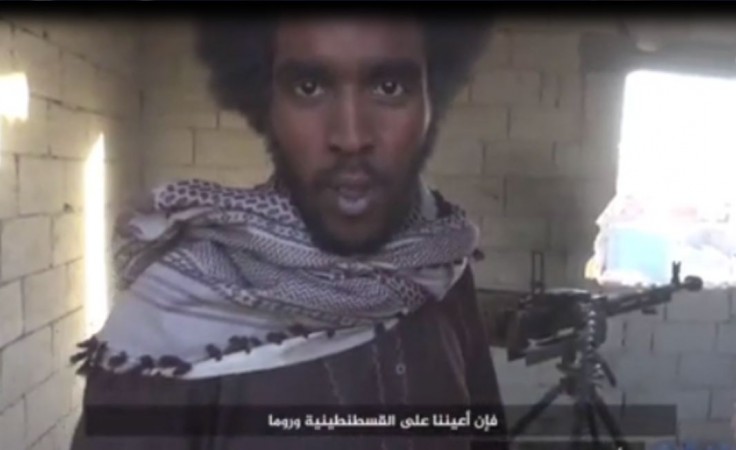 Earlier the ISIS had used a British child, named Isa, in its propaganda videos. His mother Grace took him to Syria after leaving London to marry a Swedish jihadi named Abu Bakr. It showed the child firing a Kalashnikov.
In early August, a young Islamic State (ISIS) militant Abu Ishaq al-Somali, with a suspected British accent had reportedly issued a threat to United States President Donald Trump and has warned him of new attacks.